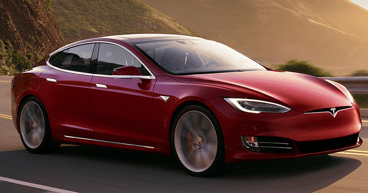 The Tesla brand has come to represent much more than beautiful cars; it also means breakthrough technology and exhilarating performance. For the second year in a row, Tesla Motors took the top rank in Consumer Reports' 2016 annual owner satisfaction survey, with 91% of Tesla owners saying they would buy their Tesla again.
Tesla has become a symbol of a new clean, bright, innovative and forward-thinking way of living. Founder and CEO Elon Musk conveys an urgency to ditch the old ways of doing things by building a new luxury brand from scratch: a $60,000–$100,000+ electric car that can't go on a road trip.
Passionate Brand Loyalty That Competitors Envy
Tesla's current collection of cars is far from perfect yet their owners love them so much that they overlook quality or reliability shortfalls, and are incredibly loyal to the Tesla brand. Problems associated with the Tesla Model S and Model X have had little influence on the overt affection owners have for these cars and the brand, according to a recent J.D. Power report, "Tesla: Beyond the Hype" that studied the image that the electric car company has cultivated among its owners.
"Tesla owners see themselves as pioneers who enjoy being early adopters of new technology, instead of typical car buyers. Spending $100,000 or more on a vehicle that has so many problems usually would have a dramatically negative effect on sales and brand perception. Right now, though, Tesla seems immune from such disenchanted customers."
— Kathleen Rizk, director, global automotive consulting, J.D. Power
As a result, owners are making allowances for the marque's shortfalls in the same way that early adopters of the iPhone were happy to dismiss the absence of MMS in the first-generation iPhone, unable to send images.
Evoking an Apple-like Passion
Tapping into your audience's emotions to create a positive brand perception converts buyers into loyal customers, and then into brand advocates. Elon Musk's introduction of the much-anticipated Tesla Model 3 to a gripped audience was reminiscent of an Apple launch with Steve Jobs. By the time he got on stage before anyone had even seen the car, the pre-orders were approaching 200,000. Shortly after his talk, this headline came out:
The car's features likely didn't play a huge part in their decision, but over a quarter of a million people put down a $1000 deposit for a car they've never seen in person and isn't even available yet. Tesla has increased their positive brand perception so much over the past few years that everyone who pre-ordered the Model 3 wanted to be a part of that perception–the "it-factor" associated with owning a Tesla.
Tesla's Multichannel Marketing Strategy
Marketing efforts highlight the unique Tesla buying and ownership experience and encourage owners to interact with the company and each other on the Tesla site. This owner passion provides a rich foundation of content on view for prospective buyers.
Tesla's social media marketing strategy is designed to increase brand recognition and to improve brand loyalty. The outspoken Musk is very active on social, especially on Twitter, where he keeps followers apprised of everything happening in his business, ensuring that Tesla's growth feels like a community effort that involves everyone; sometimes he even personally responds to individuals.
Optimizing its sales model, Tesla designed their process around online information, commerce, and community. Tesla only sells its cars online and in its own stores. For people who want to see the car, they are building kiosk stores in malls employing Tesla experts who aren't commissioned and can't sell cars. When a buyer is ready to purchase, they place a refundable deposit online; they can arrange a test drive after they've submitted the deposit.
Consumers perceive Tesla as a trusted leader in the electric car space because the company was founded on that principle—and with plans to release the $35,000 Model III in 2017, it is positioned to make good on that reputation among a wider range of consumers. This year the brand ousted Lexus from the No. 10 position on the annual "BrandZ Top 100 Most Valuable Global Brands" list. Peter Walshe, Global BrandZ director at Millward Brown, stated:
"Tesla is something completely different as a luxury brand…After reinventing the electric car and fighting against suspicion in the luxury market, its announcement of a mass-market model has only boosted consumers' desire to try the brand. It has grown like an Apple and a Facebook, which is enormous."
When pundits try to evaluate Tesla's potential by comparing it to other Electric vehicles (EVs) they miss the point. Tesla's biggest competitive advantage is not their product's feature set, high-tech production facilities, lack of a dealership channel, or intuitive software. Tesla's true competitive advantage is their brand. The brand's #1 message is that they are trying to build the best car ever made, not just the best electric car. Tesla is selling cars the way Apple sells the iPhone, it's not a product it's a way of life.
As Tesla has shown the world, strong brands start with great product, but also communicate in a way that evokes emotion with a particular world view. Companies with strong brands garner higher margins and continually outperform. Consumers are willing to pay a premium for products and services with a strong brand for which they can relate.