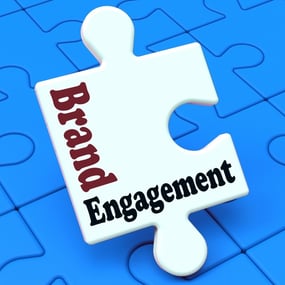 In today's always-on world, customers expect brands to anticipate and meet their needs in real time. Brand engagement is about encouraging your customers to interact and share in the experiences you create for them as a business and a brand. The best brands create positive experiences–both live and online–for their audiences. But today's audiences have higher expectations for engagement, interaction and personal benefit.
Today's consumers are tired of aggressive, in-your-face marketing campaigns. Companies are increasingly realizing that things that are not advertising-centric (e.g., storytelling) create valued experiences. Innovative companies are redefining not only how their brands are observed, perceived, and experienced; they are also redefining the relationship they have with their customer.
Brand strategy consulting professionals refer to engagement as branded communications and experiences that add value to consumers' lives and foster relationships between brands and consumers. Brands need to give consumers a reason to want to take time from their busy lives to engage with them. Ultimately, you want them to engage with your brand again and again—and tell their friends and family to engage with your brand as well.
The Experience is as Important as the Product or Service
We live in the "age of experience"—consumers want to be engaged in a memorable and unique story that is customized to their interests and delivered via the desired digital technology. Every consumer touch point with the brand should reaffirm the brand promise and whenever possible, open the doors to establish a long-term relationship that extends beyond a single purchase. That means you need to answer to key questions such as, "What do consumers want that my brand can deliver which will jump-start engagement and how can I motivate consumers to engage with my brand?"
M&M'S ARcade: Sharing Experiential Content
Today, digital and physical experiences together transform how brands engage consumers. When people describe a product they love, they typically convey the experience of using it. Whether at home, in a store or at an event, the right experiences can turn the casual customer into a brand ambassador. Experiential marketing directly engages consumers, inviting them to engage and participate in a brand's ongoing story.
Earlier this year, M&M's used an augmented reality experience, "M&M'sArcade," to celebrate the launch of its new caramel flavor in Times Square. The brand transformed a dozen billboards into an AR arcade that people could access via their mobile phones. The effort resulted in 26,000 consumer impressions from just the passersby in Times Square that day. The hashtag, #UnsquareCaramel, was used more than 2,200 times on Twitter and gathered over 6 million social impressions.
The goal is to create a closer bond between the consumer and the brand by immersing them in a fun and memorable experience. Here are some trends in experiential marketing that can help your brand make a meaningful connection.
Create a consistent experience across channels. Delivering consistent messages across various platforms is the key to customer engagement. Multi-channel marketing requires skill, and when deploying a campaign across numerous channels, you need to communicate the key takeaways in a way that meets the customer's needs on that platform. Every channel has its nuances—Facebook promotions look very different from email marketing, but there are ways to create a seamless experience for the user, so the two initiatives appear linked and cohesive.
Convey emotion in your marketing messages to humanize your brand. At the end of the day, it's important to understand that every customer wants to feel you understand their needs and that they can relate to your brand. This is easier for fun consumer brands like Apple or Nike than for more conservative brands like financial institutions or B2B companies. But even these businesses can be humanized in a way that will resonate with their audience.
Create and share valuable content. Using content to educate customers is becoming increasingly common to enhance the customer experience and increases satisfaction. According to a Google study, 48% of smartphone users are more likely to buy from companies whose mobile sites provide instructional video content.
Be social and listen to what people are telling you. When it comes to social media marketing, a brand's priority must be to create positive digital customer experiences at all times. Posting content and simply hoping that it will automatically spark engagement is no longer enough. Today's consumers thrive on thoughtful, engaging content just as much as they expect brands to be responsive (at all hours of the day).
Increasingly, marketers rely on brand engagement strategies to create meaningful relationships, foster brand growth and affinity, and deliver against business goals and objectives. All touchpoints are an opportunity to bring audiences closer to your brand in a meaningful and personalized way. Truly great brand experiences enable the brand to go beyond generic buyer personas and engage directly with every person who touches your brand on an individual level.