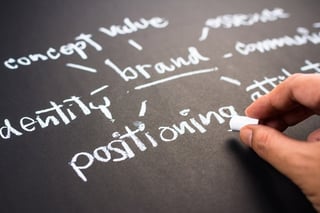 As the battle for customer loyalty intensifies, brands are the source of distinction that attracts attention, define offerings, build loyalty, and deliver an organization's unique value proposition. In the age of the customer, developing a differentiated brand is a purposeful process where insight, intuition, and inspiration combine to help transform brands from ordinary to extraordinary.
Simply stated, a brand positioning strategy conveys how customers, prospects, and other important stakeholders perceive a company and its products/services. This relates to launching a new brand as well as repositioning an existing brand. Positioning brands in their chosen markets and categories, with the goal of becoming indispensable in customer's lives, is often seen as a path from awareness to loyalty.
Whether pursuing a rebranding strategy or seeking to position a new product launch, this strategic statement should be developed by combining "outside-in" and "inside-out" perspectives. The dual approach of outside-in and inside-out ensures the resulting strategy is compelling, differentiated, credible, and taps into a profound and contemporary need of the category within which the business operates.
An Inside-Out Approach to Positioning
The inside-out approach is a corporate strategy that relies on the core competencies of the organization to drive change, product development, and innovation as opposed to external influences such as market, competition, and consumer preferences. The inner strengths and capabilities guide the belief that the company will produce a sustainable advantage.
Inside-out means to develop from the brand's perspective and with insights generated around the brand, their business, and competitors. The approach facilitates an enthusiastic, brand-driven culture within the organization.
The assertion by inside-out strategists is that getting buy-in from employees leads to a more authentic and inherent process of communicating outward and the company achieves greater efficiencies and adapts more quickly to changing circumstances.
Although inside-out companies claim they do not ask customers for their opinions, successful companies (and their CEO's) have a keen awareness of their customers, allowing them to combine their inside-out strategy with a deep understanding of their customers' needs, challenges and lifestyles. With its power to get millions of people to stand in line for hours in the bitter cold just to buy a phone, Apple is an example of an inside-out mindset.
The Outside-In Approach
The belief that customer value creation is the key to success guides the outside-in approach which aims to prototype and develop iteratively with the help of consumers. Perspective—sometimes referred to as 'voice of the customer'—is often obtained through market research. However, other more direct activities, such as social listening, can also provide this valuable strategic insight and represent the voice of the customer.
With an outside-in mindset (as opposed to inside-out) the key word is 'need,' not 'product,' and building value around the customer, and the customer's wants and needs. Companies are immersed in the minds of their customers, looking for ways to increase demand. Often, the requirements they define haven't been identified yet by the customers themselves. A sustainable growth strategy begins with understanding the difference between what you offer and what people need, which don't always turn out to be the same.
Typically, an outside-in organization asks itself:
Where are the available growth markets for our business?
How can we tap into an opportunity that is available?
What are the trends and how should we address them?
How can we better serve the needs of the market?
It's about discovering a brand's authentic and unique motivations that make it connect with people in a way that competitors can't. This provides what differentiates a brand and, most importantly, why consumers will relate to it. Over a decade later, Dove's immensely successful brand campaign, Real Beauty, is still widely acclaimed by marketing and brand strategy consulting experts. Since 2004, the brand has been empowering women to feel confident in their skin, regardless of their age, shape, or color.
Defining why you exist independently from your product and how your reason for being is relevant for audiences—both internal and external—starts inside-out and is then complemented outside-in. Recently, brands began shifting from talking about themselves, their products and services (inside-out) to facilitating customer needs beyond their offerings (outside-in).
The combination of the outside-in and inside-out perspectives leads to competitive advantage. Whether inside-out or outside-in, having deep insights about the customer experience are crucial for innovation. Organizations who know their customers are better positioned to meet their needs. This leads to more satisfied customers and lowers costs to meet those needs.