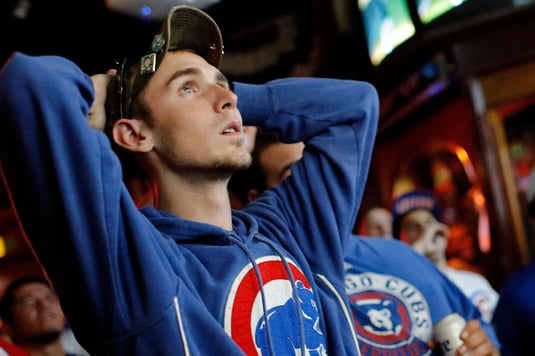 Talk about building a loyal brand. Despite the Chicago Cubs' legendary lackluster performance, the ball club consistently fills seats every summer and creates diehard fans for life. In fact, their famous home, Wrigley Field, has never had a problem filling the stands; it's the only park in major league baseball whose attendance doesn't correlate with performance numbers.
Sure, Wrigley Field is an iconic location perhaps best known for its hand-operated scoreboard and ivy-covered walls. But should a ball team be known for resistance to technology and botanical features? It's not for everybody, but it works for the Cubs. What also works are the beer, the sunshine and the history of the place cemented by such legends as Ernie Banks, Ron Santo and Billy Williams.
People love the traditions held at Wrigley but what they really go for is the sense of community they find there. It's one of the few places available in today's world where you can find your own tribe dedicated to nothing other than the pure pleasure of a few hours with others who like the same thing. In addition to being good old fashioned Americana, the Cubs represent what we love best about America--we root for underdogs, probably because we can relate to them. We can identify with not winning everything we try, but being given the chance to try again. We believe in giving second--and more--chances. And we love the Cubs because they do try, and that's all we can ask of anybody, isn't it? Yes, the Americana gets in there too. We remember afternoons of pitch and catch in the backyard and going to the ballpark because it was special. But mostly, we are lovable losers too, and we want to cheer on the Cubs in a public forum, in a way, because we're cheering for ourselves.
People don't buy what you do; they buy why you do it.
So, how do you translate that loyalty to a business? How do you keep customers coming back through thick and thin? Noted innovator and marketer, Simon Sinek, will tell you that you will find your loyal tribe when you let people know the "why" of your business instead of the what. People want to buy into something they believe in, so it's up to you to let the world know why you're doing what you're doing. Are you driven to make the world a better place with a green product? Are you passionate about providing learning tools to underprivileged children? Do you want to stop people from texting while they drive? Whatever your passion is, it needs to come through. Why did you start doing what you're doing? And here's a clue that Sinek will tell you: it's not for the money. There are tons of ways to make money. Why do you decide to do what you do every day? Once you establish that, you will keep customers coming back because they can relate to you and will stay with you regardless.
Steve Jobs knew this when he established the Apple brand. In addition to being aesthetically pleasing, he knew his products had to be more than just a box. They had to help create dreams. They had to help people do their art. They did that and are still doing it today. The Apple brand does not lead with bits and bytes. They tell you how to make your world richer and more fulfilling and the tribe of Apple buyers will continue to purchase their products because they believe in Apple's "why."
Build your own diehard brand.
Translating your business "why" into execution is where the rubber meets the road. Each business will be different because the "why" is different, but there are a few elements that always translate well into customer loyalty:
Demand consistency. Obviously, your brand must look consistent through all your materials, but it must also feel consistent through every customer touchpoint. This means the way phones are answered all the way through to return policies. Give people things they can count on with you and you will be able to count on them as customers.
Listen. Customers are talking to you even when it's not one-on-one. Dialogue is great, but pay attention to Twitter, Facebook and LinkedIn conversations to learn what people really think about you. And then respond accordingly.
Solve a problem. Heroics are great and sometimes necessary, but anticipate challenges and remove obstacles for your customers, and they'll find their way back to you.
And always remember the Chicago Cubs. They're living proof that building a loyal community is a marathon, not a sprint. Keep that top of mind and you'll fill the stands even in the lean times.