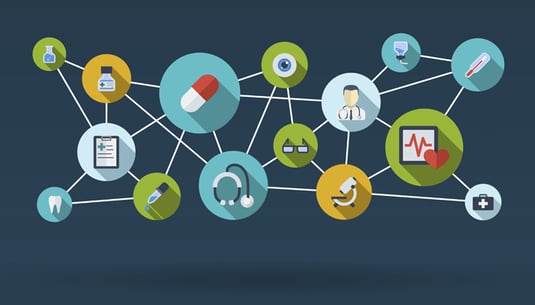 Hospitals and healthcare brands merge and rebrand as often as they do that sometimes it's hard to keep track of who's who. The pace of healthcare mergers and acquisitions will still increase as healthcare reform gives for-profit hospitals and health systems greater incentive to grow and diversify.
Branding is a powerful way to educate the general public and differentiate your healthcare organization from the competition. It also helps attract prospective patients who are increasingly taking a more informed and proactive approach to decision-making about their healthcare options.
Properly organizing and architecting a healthcare brand is crucial to customer engagement and an optimized customer journey in this complex industry.
Businesses in the healthcare industry need to be strategic and conscious about their brand architecture, especially when going through rebranding projects—like during mergers or acquisitions. Before the comprehensive rebranding process begins, healthcare organizations should consider three key factors to properly strategize their branding project.
1) Organizational Structure
Mergers and acquisitions will intensify the need for rapid healthcare branding programs. During a merger or acquisition, one or both organizations need to go through a thorough rebranding effort to ensure the newly structured organization and its purpose is clearly understood by patients, healthcare professionals, MDs, and employees—all the different segments need to understand what is going on. Therefore, it's crucial to first outline, organize, and understand the internal organizational structure of both entities to clearly outline the leadership hierarchies, the flow of communication, and different operational pieces of the different brands. You have to understand what elements of the organization impact the different target segments. These factors will all be crucial during the rebranding process, so they have to be identified during the planning phase.
There are many different types of organizations in the healthcare industry so different factors like academic institutions, medical disciplines, or overall purpose all influence how and why healthcare organization exist. Different leaders within the structure may participate in the decision-making process. This makes it critical to identify the different key divisions and decision makers in the portfolio to include them in the strategic planning of the rebranding project. If this is ignored or not properly managed, after the rebranding is complete there will likely be key players and major functions within the organization that miss out on properly executing the newly created brand purpose. This can create major issues down the road, and the benefits of rebranding may be lost.
2) Brand Architecture: Branded House or House of Brands
When brand architecture is not addressed at key times—like, during a healthcare acquisition, the introduction of new services, or expansion into new markets—and branding is barely considered, all too likely this leads to suboptimal performance in new market spaces. A particular brand either lacks the credibility to stretch, or too many brands are thrust upon a customer segment resulting in confusion and disengagement.
Healthcare systems tend to have complicated brand architectures that aren't always considered integral to organizations success. Today's healthcare environment rewards integration, efficiency, a clear identity, and strong, meaningful core values that are understood and resonate with both internal and external audiences. Systems that have developed through acquisitions of existing facilities can establish a consumer perspective of consistency and high productivity by creating a uniform appearance. A well-thought out brand architecture in healthcare is critical for:
Supporting organizational vision, business goals, and strategies

Providing the right marketplace visibility to services

Ensuring all brands in the portfolio work together to grow the value of the healthcare system brand
GHS: A Branded House
Greenville Health System, formerly Greenville (S.C.) Hospital System University Medical Center is the largest hospital organiza­tion in upstate South Carolina with five campuses and multiple physician offices. It had been operating as an integrated system, but it didn't always look like one.
As a result, the system embarked on a journey to rebrand, developing a new name and logo to apply in every location with the goal of moving to a "bra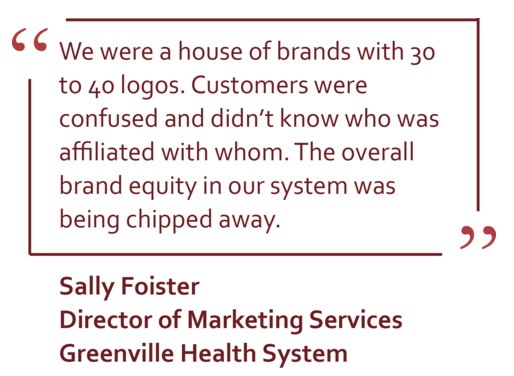 nded house" throughout.

They simplified the complicated, old logo to a new, sleeker version, updated the name and branding on its 57 websites, 50 social media sites, 15,000 employee ID badges, letterhead, and collateral. This "branded house" approach streamlined their entire branding system, emphasizing the parent name to help build long-term brand recognition more efficiently.
3) How "Master Brand" To Go?
Greenville Health System went through their rebranding process and decided to follow a strong master brand under a branded house approach. As we mentioned, this helps the business to clarify the parent name and increase recognition.
That being said, it is critical to carefully assess how strong of a "master brand" you want to pursue in the healthcare world.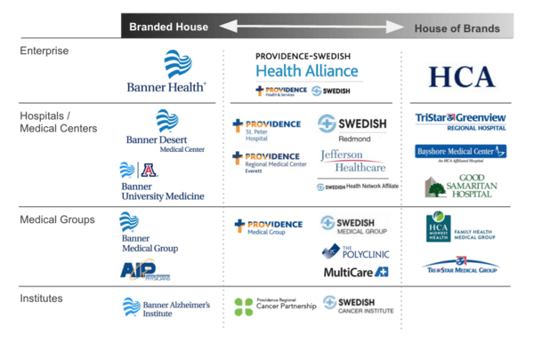 While there are benefits of a strong master brand to direct a branded house strategy, your team has to be thoughtful of the repercussions and risks to this approach. Making the move towards a master brand in healthcare requires forethought, systems thinking, and flexibility. There will be entities within the portfolio that require their own identities or more time to convert. In the case of healthcare mergers, where two strong brands need to be restructured, you should especially assess the possible risks to developing a single master brand:
Topline Risk - Eliminating a legacy brand can cause a loss of customers and presents a significant risk to revenue potential.
Significant Expenses - An immediate transition to a single master brand carries a large volume of "hard costs" (as seen with GHC's logo roll-out).
Operational Challenges - Rebranding to a single master brand creates enormous internal challenges—highlighted in factor #1 above.
Legal Constraints - Removing a legacy brand can create legal obstacles—like anti-trust issues.
Moving to a master brand in healthcare, like in the case of mergers or acquisitions, seems like a wise choice but it creates added complexities too. Choosing which name to end up with and which entities to retain legacy for is not simple, and should be based on in-depth research. Even so, after making the final decision ensuring, the transfer of equity will be key and requires timing the right steps into the transition. The transition is all about the details and nuances—it's not just about optics (name or logo) it's about positioning.
Your team should carefully strategize how far of a master brand to pursue in healthcare. Think of different ways to keep an essence of flexibility to your brand architecture and be better prepared to adjust to new acquisitions or changes in the market.
4) Design, Logo, and Brand Asset Management
Rolling out the brand across the entire, complex organization understanding who "owns" each touch point is critical to consistent and useful rollout. There cannot be any detail left unassigned or unaccounted for with large healthcare brands.
In incredibly complex organizations, it is not enough to announce "a new logo" that "the marketing team" is responsible for. Every level of the newly branded organization, and every entity within each level, needs to make sure they are clear about the new branded assets and how to efficiently, comprehensively, and consistently roll them out.
The "branded house" strategy is the guiding principle behind all Greenville Healthcare System's brand development. The visual characteristics of its strategy include:
1) Pre-eminent and consistent use of the GHS parent name, symbol, and signature
2) Consistent use of color
3) Consistent use of typography
4) Consistent use of imagery
5) Simplicity
A carefully executed brand portfolio strategy is an imperative for securing long-term growth and success in an ever-changing marketplace. In healthcare organizations, where change is constant, brand audits and brand architecture reviews should become common practice. These are useful checks to assess whether ever expanding brand portfolios are still making sense in brand architecture and whether brand management practices are showing the required results or not.
A sound brand architecture strategy facilitates entry into new markets and product categories and minimizes barriers of entry for future brands. The restructuring of these complicated, large, and unique healthcare brands is not easy and takes time—but a properly executed rebranding project where internal organizational implications and details are strategically worked through will assure growth for these brands in the long-run.