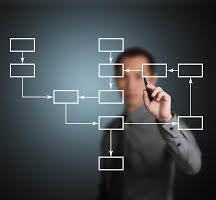 New products and features are imperative for sustaining and growing a business, and marketing can drive the success (or failure) of a product launch. Your go-to-market strategy provides a strategic plan that clarifies how to reach your target customers and better compete in your market, bringing together your key business drivers: sales, marketing, distribution, pricing, branding, competitive analysis, and consumer insights. Go to market strategies can be applied to new product launches as well as existing products and services. Following are seven steps to formulating your strategy:
Identify Your Target Markets
No product is right for every market. Establishing your ideal target markets is a vital element in formulating your GTM strategy. Factors could include demographics, psychographics, buyer personas, online/offline, and geography. Since you can't pursue every market you need to determine where you can most effectively differentiate your brand and attract the most profitable customers. Key considerations include:
Which markets have the most urgent pain?
Where are the market gaps?
Which markets are most aligned with your corporate strategy?
Which markets best align with your core competencies?
Which markets are easiest to reach?
What are the largest markets with the least competition?
Assess each market for accessibility, alignment, and overall opportunity, and validate them with key stakeholders. Assess feedback from current and prospective clients as well as employees by using customer surveys and focus groups. Finally, prioritize your market opportunities and refine them on an ongoing basis.
Define Your Target Customer
The motivating force here is developing customer intelligence. You want to become skilled at generating actionable consumer insights through web surveys and analysis, focus groups, and one-on-one in-depth interviews. Here you will want to consider:
Who are your most loyal, profitable customers?
What needs are you trying to satisfy for your target customers?
What problems are you trying to solve?
What is the ideal customer experience you're trying to create?
What emotions do you want customers to experience when they interact with your brand?
The better your consumer insights, the better your chances of executing an effective GTM strategy.
Determine Your Brand Positioning
Brand positioning is the process of positioning your brand in the mind of your customers to generate greater brand loyalty. The positioning statement is one of the most important sentences in a marketing plan. It is an articulation of how a company (and/or its products and services) should be perceived in the minds of its customers and prospects. It brings focus to the development of a marketing strategy and the marketing plan and tactics to support that strategy. Strong brand positioning is what makes your business unique and meaningful and succinctly articulates its differences from competitors.
Define Your Unique Value Proposition
Understanding the key features and benefits and exactly how your product/service connects with your customers including the context of their use, the problems it solves, the benefits they derive. Here are some key questions to help you bring clarity to your offering:
What needs or problems do your target customers need solved?
Which features in your offering best address these needs?
What are important attributes or benefits of your offering?
How is your offering differentiated in the marketplace?
To help determine the product's unique value proposition, look at it from your target customer's perspective. The better insights you have about your customers, the more effectively you can define your offer. Get to know your customers. Obsess about them; talk to them and listen to them. This will also help you create more effective marketing messages down the road.
Identify Your Channels
Channels link your offering to your customers. Channels might include a retail store, the Internet, a call center, a face-to-face salesperson, a trade show, or a direct partner.
Amazon.com's primary channel is its website; Home Depot's primary channel is its retail chain. Your goal is to ensure that each channel is as seamlessly integrated with the others as possible. Customers should be have a consistent brand experience regardless of what channel or touch point through which they interact with you. You want to make sure your offering fits your channel (e.g. it is difficult to sell complex services or certain high-priced products over the web). Key questions in your channel analysis are:
Where are your target customers and where do they buy?
Where will you promote your products?
What are the right distribution channels?
How will customers want to interact with you?
What level of interaction do your target customers require?
Can you create a competitive advantage?
Build Your Financial Model
Once you've defined your channels, you'll need to build a financial model. Here you want to define your product pricing and estimate the costs associate with your GTM strategy. To develop your pricing model, consider:
What value does the offer bring to your target customers?
Are there any prevailing price assumptions?
How should you price your product relative to your competitors?
Can you create a competitive advantage with your pricing model?
Channel economics is important to consider. For example, most airlines charge a booking fee when you book a flight via their call center while charging no fees for online booking. Call center representatives are expensive, but there's little variable cost for web transactions, but
Develop Your Marketing Strategy
Now it's time to begin developing a unique marketing strategy for each target market you've identified. Your marketing mix will be determined by your strategy in each market. Beginning with your brand positioning, the goal is to create competitive advantages for your product/service.
To develop marketing tactics, consider:
How will you reach economic buyers and influencers?
What messages will move them to consideration and purchase?
Remember that your marketing objectives and strategy may change throughout the product lifecycle. Be sure to measure and track your key performance metrics on a regular basis so you are ready to adapt and make adjustments to your strategies, tactics, and resources.
Developing a great product or service is not enough. You need a strategy for it to reach your target market. An effective GTM strategy is based on delighting your customers and surprising your competitors. Consider how hard Apple used to work to build suspense and keep their iPhone plans secret until "just the right moment" to go to market with their new product. By taking time to understand the guidelines above, you will significantly enhance your chances of success.