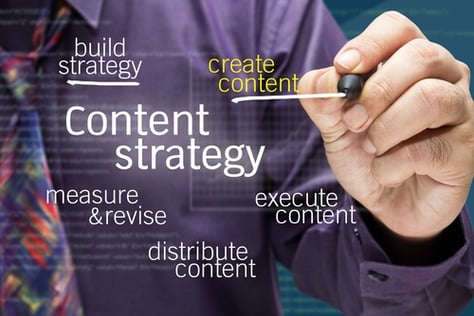 Roadmap for Brand Success: 6 Content Marketing Strategy Essentials
This month, Google released a broad core algorithm update, which they routinely do several times per year. They communicated that a key objective was to improve how Google matches relevant results to search queries. In a follow-up statement to Search Engine Journal, Google's Danny Sullivan elaborated, "Want to do better with a broad change? Have great content. Yeah, the same boring answer."
Interestingly, in its annual Benchmarks, Budgets, and Trends research, the Content Marketing Institute has consistently found that a content marketing strategy is the one thing that separates successful content marketers from their less successful peers. Furthermore, according to their latest research, 62% of the most successful content marketers have a documented strategy vs. 16% of the least successful.
Content marketing has become a vital tool for b2b marketers in regards to building relationships with key customers and generating leads as traditional channels of lead generation have been drying up. Social media enables marketers to connect with buyers in a personal and customized way. Thus, it doesn't matter if you have an internal team or an external agency publishing content.
Ad hoc publishing to improve Google ranking doesn't help your brand—nor will it build an engaged audience. B2b marketers need a well thought out strategic plan for all their content usage across the enterprise—a documented content strategy that focuses exclusively on using content to attract, acquire, and engage prospects and customers.
Below are six questions to answer that will help to get you started defining and documenting your content marketing strategy.
What are your objectives?
For any successful strategy, businesses need to identify the key objective that needs to be achieved. Thus, b2b brands need to articulate the content marketing objectives clearly: brand awareness, customer engagement, lead generation, drive website traffic, generate PR buzz, target a new segment to name a few. Once the objectives are identified, they become the linchpin for your content strategy.
Who is your target customer?
Next, b2b brands need to define the ideal customer. Creating content that appeals to the masses could lead to missed opportunities. For the content to resonate, brands should clearly outline the target customer and understand their specific needs. Creating engaging content that speaks specifically to your customers maximizes ROI.
What is your value proposition?
Brands must unequivocally know what sets them apart from the competition. What do you offer your customers that will be perceived as valuable, compelling and worthwhile enough to consider purchasing? The content strategy created should both highlight the value proposition that your b2b business can provide, and connect that to buyers' purchase journey. If you are a leader in your industry, your content needs to be the same–take charge, provide expertise and key thought leadership.
What is the customer's purchase journey?
In addition to understanding buyers, b2b brands must also know what resonates with their audience—what they care about, their concerns, and what their path to making a purchase looks like. Identifying essential areas to influence and drive conversions can help drive the sales funnel.
What are your metrics for success?
The ultimate lead generation goal for b2b marketers is to convert leads into paying customers. The content strategy should clearly state success metrics throughout the buyer's journey: e.g., how many people do you need to visit your website, submit forms, download reports, etc.? Thus, it's clear as to what a successful content strategy should have achieved.
How frequently will you publish?
One of the biggest challenges b2b marketers identify is: Are we producing enough content? Remember to have clear objectives of when and how frequently you want to publish content. Finding a balance between quality and quantity. While Google gives you points for unique content, creating a landfill of content can get costly and disengage your audience. Focus on a pace that adds value and a frequency that's manageable and keeps the brand top of mind.
Content marketing is no longer a shiny new tool in the b2b marketers' toolbox. As such, b2b brands need to have a cohesive content strategy—one that is goal oriented, well defined and consistent to its audience, so that it engages, renews and builds new streams of revenue.
Note: This post was originally published in March 2015 and has been revamped and updated for accuracy and comprehensiveness.