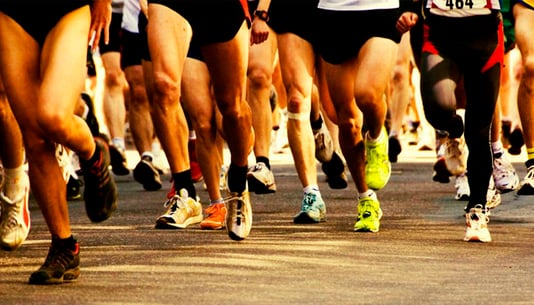 You've likely heard the saying, "Success is a journey, not a destination." The customer experience is now a journey, too—a never-ending journey really. Customer experience is now a set of expressions, impressions, and interactions between a customer and a company that results in certain perceptions of that company that drive an action, or fizzle into non-action. Brand strategy has to continually evolve to deliver a standout customer experience, not only at a single touchpoint but along the entire, complex journey. The purchase funnel has transformed into less of a pre-determined path and more into a customer journey that will take lots of different routes—and a myriad of opportunities for marketers to add value.
Today's empowered consumers are reshaping business strategy. A new generation of customers has grown up in a digital society with radically different ways to communicate with each other—and with brands. The explosion of digital and the acceleration of innovation are having a profound impact on customer expectations. In Gartner's 2015 Marketing Spending Survey, customer experience came out as the top-ranked area of investment in terms of marketing technology. Research also suggests that by the year 2020 brand loyalty will be based solely on experience, rather than price points or the quality of products and services.
Customers expect consistent and high-value experiences both in-person and online; they don't care if providing these experiences is difficult or requires a complex, multifunction approach. Consumers consistently talk about brand experiences and they're doing it on social media more than ever. They are fickle, demand immediate value, and will hop over to one of your competitors if you can't provide consistent, positive experiences. The key to remaining relevant will be an unyielding focus on optimizing customer perspectives.
Connecting With Customers Through Multiple Channels and "Special" Touchpoints
The typical customer journey today starts with the search engine, the go-to portal for any product or service consumers want to research. However, customers no longer engage with brands by moving from point A to point B in a linear fashion. The journey has been rerouted with many twists and turns along the way. Brands are now asked to fulfill a multitude of informational needs, and marketers now have access to data and technical tools to engage with customers in sophisticated one-to-one journeys that place the customer at the center of everything companies do. As marketers, you must adapt to this and provide:
Consistent messaging across all touchpoints

Seamless shopping experiences across multiple channels (i.e. mobile)

Personalized interactions through "special touches"
Today's technology allows marketers to craft highly personalized customer journeys that can also create a consistent overall experience across multiple touch points. Every email, website visit, or mobile app access is an opportunity to deliver value and tailor interactions to individual customers. It's about creating memorable delight and consistently moving customers forward in a complex journey.
Data and advances in technology have made personalized messaging a realistic standard. This is great for building brand loyalty and recognition. At the same time, a personalized customer experience is now an expectation. The key to optimizing the customer journey is to find opportunities to make buyers feel special, in some way at some point. These "special touches" are what make customers connect strongly with a brand. These touches go beyond customers' own expectations and create long-lasting positive perceptions of your brand.
Southwest Airlines implements "special touches" at different, somewhat unexpected, points throughout the customer journey—turning their customers into the strongest of brand ambassadors. The airline doesn't make fliers feel special by assigning all of them their own seats. Instead, fliers will receive random free-drink tickets during a flight or a 'LOVE' voucher during a customer service interaction—the airline's name for credits to use on a future flight. Southwest has trained employees to use these moments so the brand and its staff can shine, keeping these benefits sporadic and used in a way that makes customers feel genuinely special.
Optimizing The Customer Journey and Capitalizing on Defining Moments
If customers aren't emotionally connected to your brand through the experiences you provide, you will be vulnerable to offers and solicitations from your competitors. This was the case for Mercedes-Benz, who has now transformed their organization into a customer experience leader.
Mercedes-Benz USA (MBUSA) has long delivered on the brand promise "the best or nothing" when it came to product innovation, safety, an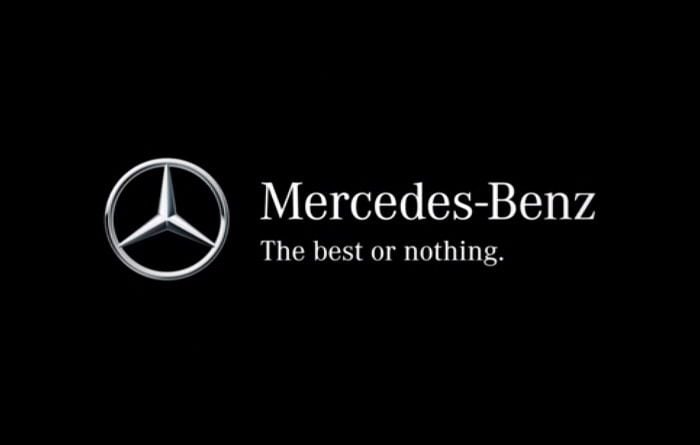 d even marketing prowess. However, calling everyday customer experiences at US dealerships "the best" was a stretch. In a complex customer journey like today's, the interchange between the multiple touch points is important. Careful analysis of the different interactions should reveal disproportionate impacts on customers' perception between each one. From a branding perspective, the more powerful touchpoints are "defining moments", or the interactions that have bigger and longer lasting effects on customers leaving them with either a favorable or unfavorable impression.
In 2011, Mercedes-Benz buyers and vehicle owners were frequently having dealership experiences that were 'out of alignment' with their brand messaging and in need of an overhaul. Executives at Mercedes-Benz USA didn't want to be the best among automobile companies; they wanted to be the best of those brands perennially recognized for excellent experiences.
Mercedes-Benz USA leaders mobilized their staff and the employees at more than 370 dealerships to consistently prioritize the customer. Through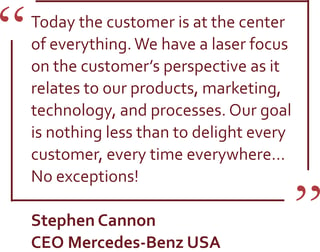 data and strategic analysis, executives realized that buyers' experiences at Mercedes-Benz dealerships were "defining moments" within the long, car buying journey. The experiences at dealerships play an enormous role in customers' purchasing decisions, and Mercedes-Benz realized they had to capitalize on this touchpoint's potential.
They reprioritized existing programs and resources to serve the goal of creating an unmatchable customer experience at every single dealership. Mercedes-Benz USA leaders studied Zappos, The Ritz-Carlton Hotel Company, Starbucks, and other premier brands as they embarked on their transformation, and were able to strategize a successful plan to improve all facets of their customer experience—an admirable feat for a company in the car sales industry.
An excellent example of a brand that understands the value of the customer journey, and capitalizing on "defining moments", is Starwood Hotels & Resorts. Starwood implemented mobile technology so guests don't have to wait in line to check in and pick up a room key. Instead, guests can simply scan a code on their phone to get into their room; saving time, hassle, and providing a seamless customer experience when travelers want it most.
These types of satisfying end-to-end experiences are what brands in all types of industries can engage in. Buyers don't just want a product, they want a quality journey leading up to the purchase of that product—and following it as well.
The Key To Driving Future Growth
As the pace of innovation continues to accelerate, brands will put more emphasis on the experiences they deliver to customers to develop a competitive advantage. Companies must adapt to the modernizing business environment and evolve their customer experience initiatives to meet the changing expectations of customers, delighting them in special ways that strengthen brand loyalty. We now have the tools and insights to create meaningful value for customers across different touch point. In doing so, we can deliver the cohesive, highly personalized experiences that today's customers expect and are so highly attracted to.
What brands will win in the year 2020? Arguably, it's the most forward-thinking companies—those that consciously and deliberately work at anticipating their customers' future needs and successfully create an experience that customers will genuinely value.