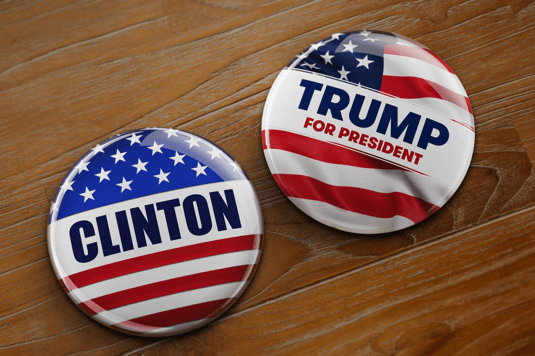 We live in an exceptionally dynamic world where more people than ever are connected, and it seems every aspect of our lives is being affected and transformed by emerging technologies. The pressure for brands to own unique value in consumers' minds has never been greater. For brands to be relevant and valuable they need to improve peoples' quality of life and well-being, and, if a brand becomes more meaningful it also becomes more valuable.
Meaningfully different brands are much more likely to be chosen, command greater price premiums, and enjoy future growth. Brands that focus on improving society and making our lives better gain a greater share of our minds and receive higher levels of engagement and trust.
While we typically evaluate the strength of B2C or B2B products/services brands, political candidates can be evaluated through a brand lens as well by addressing such questions as:
Does the candidate meaningfully connect with voters?
Is the candidate viewed as different or capable of driving positive change?
Is the candidate top of mind, or relevant?
The idea that political candidates are brands in addition to politicians is hardly a new one. However, with the historic 2016 presidential election just weeks away, it seems fitting to take a look at this election's 'unconventional' candidates through a brand lens.
Global research agency Millward Brown recently released Candidates as Brands, a study exploring the brands behind Democrat Hillary Clinton and Republican Donald Trump, comparing them with brand profiles in the company's extensive database. Study results aligned the Clinton brand with profiles of proficient but undifferentiated brands—those that are accessible and reliable, but not particularly innovative or disruptive, including American Airlines and the United States Postal Service. On the other hand, even after decades in the public eye, the Trump brand was unlike any brand found in the company's database of more than 100,000 brands.
Brand Trump
Before he won the nomination, Trump's total net worth was an estimated $8.7 billion - $3.3 billion attributed to "real estate licensing deals, brand, and branded assets." Brand consultants at Brand Keys estimated that "more than 75% of the entities Mr. Trump listed in his presidential financial disclosure statement either carried his name or initials on lifestyle and consumer products." Furthermore, "adding the Trump name increased the perceived value of products or services anywhere from 20% to 37%."
Mr. Trump was determined to make "Trump" a household name across the country. In the book An American Journey of Ambition, Ego, Money and Power (Michael Kranish and Marc Fisher), this sentence captures the proliferation of the Trump brand:
"Trump summoned reporters to a press conference at Trump's Bar, located on the ground floor of Trump Tower, close to Trump Grill, just steps away form Trump's Ice Cream Parlor and the Trump Store, which was then pushing a new cologne for men called, Donald Trump, the Fragrance."
Too Big to Fail
During his early 1990's cash crisis, Trump and his companies owed more than $3 billion, much of it to the banks that had fueled his spending sprees. The banks wanted their money back, and Trump's assets were on the line. However, the banks soon realized that Trump's assets—the buildings, the casinos, etc.—were worth more with his name on them than in foreclosure. Removing "Trump" removed a tremendous part of the allure. The brand was worth so much that bankers were willing to take a bath on their investments in order to hang onto the name, allowing Trump to walk away with a key asset–his name. Real estate had become Trump's side business, marketing his own name a full-time job. Trump created a huge business empire out of selling his name; Trump-branded buildings went up around the world that he neither built nor owned.
The Millward Brown study concluded that twice as many voters will hate our next president than will love him or her, and that the majority will not trust whoever wins the election (evidenced by Brand Clinton's struggle with trust and differentiation). Mr. Trump certainly succeeded in making "Trump" a household name; he is top of mind and relevant. However, American voters will ultimately decide if Trump's brand meaningfully connects with voters and whether he is viewed as capable of driving positive change.