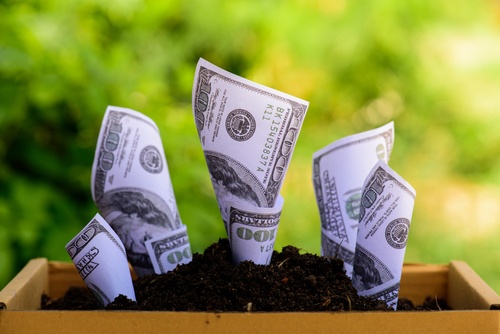 By: Mitch Duckler
Most business enterprises are faced with the challenge of growing their respective businesses. At the most basic level, business growth can be divided into two broad categories: organic and inorganic. Organic brand growth is achieved when a firm grows from within. It is the process of expansion due to increasing overall customer base, increased output per customer or representative, or new sales (or any combination of the above). It basically entails all growth not stemming from mergers and acquisitions and other external sources.
While both types of growth have their advantages, there are several unique benefits that accrue to companies that grow organically. For starters, organic growth strategy tends to be less expensive and less risky than acquisitive growth because the source comes from retained profits. Additionally, firms are able to maintain a greater degree of control with organic growth, whereas external growth often leads to loss of control and even ownership. Finally, organic growth allows a company to maintain its management style and culture, and does not suffer from the culture clashes often associated with mergers and acquisitions.
Organic Growth Framework
This article centers around a framework for driving organic business growth that features five distinct strategic paths (see exhibit). In general, as we move from bottom to top—and from left to right—in this exhibit, the levels of intrusiveness, complexity, risk and reward tend to increase. We will discuss the benefits and drawbacks of the five paths for driving organic growth and use real-world examples to illustrate how leading global companies have used them to achieve sustainable business growth in their organizations.
1) Existing Products/Existing Customers
The most basic form of organic growth is to sell more of your existing products to existing customers. There are a few ways this can be accomplished. One way is through improving your marketing effectiveness—in other words, to do a better job promoting, merchandising, and advertising your existing products. Another related way is through improving your sales effectiveness, which can be achieved through increasing the size of your sales force and/or enhancing its selling capabilities. Finally, product/service enhancements can make your offering more appealing to existing customers.
While this form of organic growth may not be the most interesting from an innovation perspective, if done correctly, it can lead to broad scale, system-wide growth. When compared to other methods—such as new product development—improving overall marketing effectiveness and sales productivity are structural enhancements that can benefit an entire organization, not merely a specific product line or business unit. Additionally, selling more of your existing products to existing customers is generally considered to be the least risky method for driving growth. However, if transformational growth is desired, other methods should be considered.
2) Existing Products/New Customers
Like the previous path, selling existing products to new customers can help a company achieve meaningful organic growth in a relatively timely manner. This is because it is not dependent on a new product development process that often takes months, or even years, to execute. However, much like selling existing products to existing customers, this path tends to be more incremental than transformational when it comes to innovation and growth. There are at least three high-level ways to sell existing products to new customers, including entering new geographies, selling through new channels, and serving new customer segments.
New Geographies. There are multiple methods for expanding into new geographies, and each has its benefits and drawbacks. In selecting the optimal entry strategy, it is important to consider factors, such as your familiarity with the intended new market, desired timeline for achieving growth, and appetite for risk. Exporting existing products into new geographies is typically the easiest, quickest, and least risky form of geographic expansion, but it is often limited in terms of its potential for market growth and profitability. Regionalization—which entails establishing a physical presence in the geography of interest for select business operations—is a logical next step after exporting. Origination is the most involved and potentially lucrative form of geographic expansion, but also carries with it considerable investment and risk.
Ikea Group, the world's biggest home-furnishings retailer, is an example of a company growing through aggressive geographic expansion. Specifically, it plans to increase the number of outlets fourfold in China as the world's most populous nation is set to become the company's second-largest market. The furniture retailer plans to add five stores to the 11 it currently has in the country and boost the total to 40 by about 2020. It also plans to open its first store in India by 2014 and increase it to 25 stores by 2025.
New Channels. Successful companies develop channel strategies that provide clear direction on which channels to exploit to target specific segments in specific markets. The ability to identify, enact, manage, and support local or regional resources with quality channel strategies and execution can mean the difference between profitable growth and floundering business performance. Simply duplicating channel strategies from core markets can lead to disappointing results. Rather, a well-developed and executed channel strategy focuses on understanding the opportunities, drivers, and structures of different markets. This, in turn, helps local firms focus on ensuring goods are in the right place, at the right price, when consumers make a decision to buy.
Exploiting new channels is a key strategy for growth for Gap Inc. Its executives have recently reaffirmed intentions to expand through various channels including specialty, online, outlet, and franchise. The company plans to build upon its online success by delivering an omni-channel platform for consumers as the retail landscape continues to merge online and brick-and-mortar shopping experiences.
New Segments. The key premise behind segmentation is that while customers may look alike, their needs, attitudes, and purchase drivers may differ significantly. There are multiple ways to segment a market, including by channels, demographics, behaviors, needs, and attitudes. Deciding to target different and/or additional customer segments is clearly a way to sell more of your existing products to new customers.
Porsche made a conscious decision to target a new segment of buyers—those who couldn't ordinarily buy a sports car either because of the price or because they needed greater space for their family. To support this endeavor, it launched Cayenne in 2003. Globally, the Cayenne makes up 50% of Porsche's volume. While in this particular situation, there was ultimately a new product launch that accompanied the targeting of a new customer segment, this does not always need to be the case.
3) New Products & Services
Launching new products and services is one of the most common forms of organic growth. At the highest level, the world of new products and services can be broken down into two distinct categories—New-to-Company (NTC) and New-to-World (NTW). The latter is typically more challenging, and arguably more risky, but when a company launches a successful NTW product or service, the benefits and payback are often enormous. This is because, by definition, an NTW product or service is typically addressing an unmet customer need, and the company's offering is the only one in the market that can do so. Furthermore, there is often a "first mover advantage" in developing NTW products, raising barriers to entry, and relegating competitors to "me-too" responses.
Johnson & Johnson (J&J) has long been a leader in new product development, and this is perhaps nowhere more evident than in its Pharmaceuticals segment. This J&J segment has yielded 11 new product launches since 2009, more than doubling its productivity over the past four years. It is poised to continue this spectacular growth with more than 10 new product filings by 2017. These new products, coupled with core growth brands, have fueled 12 consecutive quarters of operational sales growth in the segment and contributed significantly to the Company's recent earnings growth.
4) New Industries
Entering new industries is a far less common form of organic growth than new products and services. This is because many industries inherently have high barriers to entry, and individual companies typically lack the knowledge, relationships, and core competencies required to compete effectively in a new industry. These factors combine to make entering new industries—especially ones that are dramatically different from a company's core industry—a very risky proposition. Some of this risk can be mitigated (and barriers overcome) through inorganic growth methods, such as strategic alliances, joint ventures, and mergers and acquisitions.
Simply stated, there are three broad types of new industry expansion: vertical, horizontal, and unrelated. Vertical industry expansion involves a company entering into an industry that is either upstream (e.g. suppliers) or downstream (e.g. distributors) in the supply chain. One of the primary reasons for vertical expansion is to achieve a higher level of control within a particular market. Conversely, horizontal expansion entails entering an industry that is related by means other than supply chain. This strategy often reduces competition and increases market share through achieving economies of scale. As the name implies, unrelated industry expansion is entering new industries that are completely unconnected to a company's core industry. This strategy is extremely rare in the world of organic (i.e. non-acquisitive) growth.
5) New Business Models
The emergence of new technologies in recent years has vastly expanded the ability for companies to grow through developing new business models. Most experts agree there are four critical components that define a good business model. The first is a value proposition, which is basically the meaningful end benefit customers derive from a product/service offering. Next are resources—the people, technology, facilities, equipment, and cash required to deliver the value proposition. Processes are the third component, and they tend to define ways of working together to address tasks in a consistent manner. Finally, there's profit formula, which is the assets and fixed cost structure, and the margin and velocity required to deliver them. Below are three broad categories of business models underneath which most business models fit.
Solution Shop. These are institutions whose resources and processes are structured to diagnose and recommend solutions for complicated problems. Consulting firms, advertising agencies, research & development organizations, and many law firms are value shops. The work solution shops do for each customer tends to be unique. Because diagnosing the cause of complex problems and devising workable solutions has such high subsequent leverage, customers typically are quite willing to pay very high prices for the services of solution shops. Solution shops typically generate revenue through a fee-for-service revenue model. Occasionally, a consulting firm, for example, might agree to take some of its compensation based upon the ultimate outcomes from its recommendations, but this rarely works because the outcomes depend upon so many other factors than the quality of their recommendations.
Value-Adding Process. These types of business models typically bring things in that are incomplete or broken, add value to them, and then ship them out, repaired or more complete. Retailing, restaurants, automobile manufacturing, petroleum refining, and the work of many educational institutions are examples of value-adding process businesses. Value-adding process businesses typically have a fee-for-outcome revenue model. Because the ability to deliver the result is resident in equipment and practiced processes, prices can be quoted in advance, and outcomes guaranteed. Most concepts of strategy were derived from the study of value chain businesses.
Facilitated Networks. Facilitated Networks are institutions in which the same people buy and sell, and deliver and receive, things from each other. Mutual insurance companies are an example. Customers put premiums into a pool and take their claims out of it. Telecommunications companies facilitate networks in which customers send and receive calls and data amongst each other. The companies that make money in these industries are those that facilitate the effective operation of the network.
Zara is a fascinating example of a company using a unique business model to drive growth. Fashion is an industry that changes at breakneck speed. This means retailers have to keep pace with changing consumer needs while also producing large volumes of clothing (which traditionally involves long delivery times). Zara accomplishes this through precision, speed, and small production volumes. Its design, development, production, and supply chains are among the best in the world. Specifically, a design idea is translated into a garment displayed in the store in a matter of just three weeks. Delivery time is 24 hours within Europe and 36 hours to all other countries. This process takes other clothing manufacturers an average of six months.
The tangible benefits of organic growth are numerous. Building strong brands means you're growing your business through strong management and effective planning. You know your business inside and out and can move quickly to take advantage of changes in the marketplace, and you can experience the satisfaction of seeing your vision come to fruition. You also have the choice of growing your business at a rate that is comfortable for you. If you are a small business or entrepreneur, instead of merging with another company or buying one, you can sell your business when it is mature and when you're ready.
Download this Article - Driving Organic Growth
_________________________________
Mitch Duckler (mduckler@fullsurge.com) is a partner at FullSurge, a strategic consulting firm that helps clients grow through brand-building and marketing.