Repositioning and Marketing an Investment Banking Firm
Reconsidered Frame of Reference
Shifted firm's frame of reference from specialty boutique to M&A advisory
Positioned the Brand for Success
Created a compelling and credible unique value proposition
Crafted Ideal Client Experience
Identified and optimized critical touch-points across the client experience

Challenge:
Defining a meaningful point of difference for the brand
Republic Partners provides investment banking and strategic advisory services for all stages of business development. For nearly 20 years, Republic Partners has primarily served the non-asset based transportation market, typically facilitating transactions between $20-$100 million. In addition to individual transactions, Republic Partners has developed a reputation for establishing meaningful, long-standing advisory relationships.
In recent years, however, the market has evolved to be less service-oriented and more transaction-focused. In response to these changes, Republic Partners was looking to scale significantly over the upcoming five years, and it had identified several avenues to fuel growth. These growth avenues included increasing its traditional M&A business, while also focusing more on financing, additional ancillary verticals, and supply chain technology.
In order to support its growth goals, Republic Partners also identified the need to invest in brand and marketing, but the path forward was unclear, and key questions remained unanswered. For starters, how could the brand, which was inextricably linked to its founder, be redefined to represent the entire firm? Additionally, what unique and compelling value proposition should represent the brand and provide it a sustainable competitive advantage in the marketplace? Finally, which elements of its marketing mix—analog and digital—would need to be leveraged to drive profitable growth?
Solution:
Repositioning the brand for differentiation and advantage
Specifically, we learned it was important to change the firm's frame of reference, in effect repositioning it from a "specialty boutique" to a "mid-tier M&A Advisory.
FullSurge worked closely with the Republic Partners leadership team to understand its perspectives on the current situation. In particular, we focused on developing potential hypotheses for a unique brand value proposition. Hypotheses focused on three potential broad "territories": people, processes, and outcomes/results. We also worked with the firm to map the typical client journey and identify the key touchpoints that comprise each phase, from initial awareness, to new engagement, to loyal brand advocacy. The touchpoints we evaluated included face-to-face interactions, the company website, proposals and pitches, eminence and thought leadership, case studies, testimonials, events, social media, and newsletters.
With hypotheses in place for both value proposition and client journey, we conducted over two dozen in-depth interviews with current, former, lost, and prospective clients. These interviews helped us understand what truly separated Republic Partners from its competitive set. Specifically, we learned it was important to change the firm's frame of reference, in effect repositioning it from a "specialty boutique" to a "mid-tier M&A Advisory." We also discovered that the attribute the leadership team believed most distinguished it in the marketplace—high integrity—was essentially viewed by clients as a table stake. The client research also helped us prioritize the critical touchpoints within the client journey, and to identify the firm's outdated website as a high-priority touchpoint that needed immediate attention.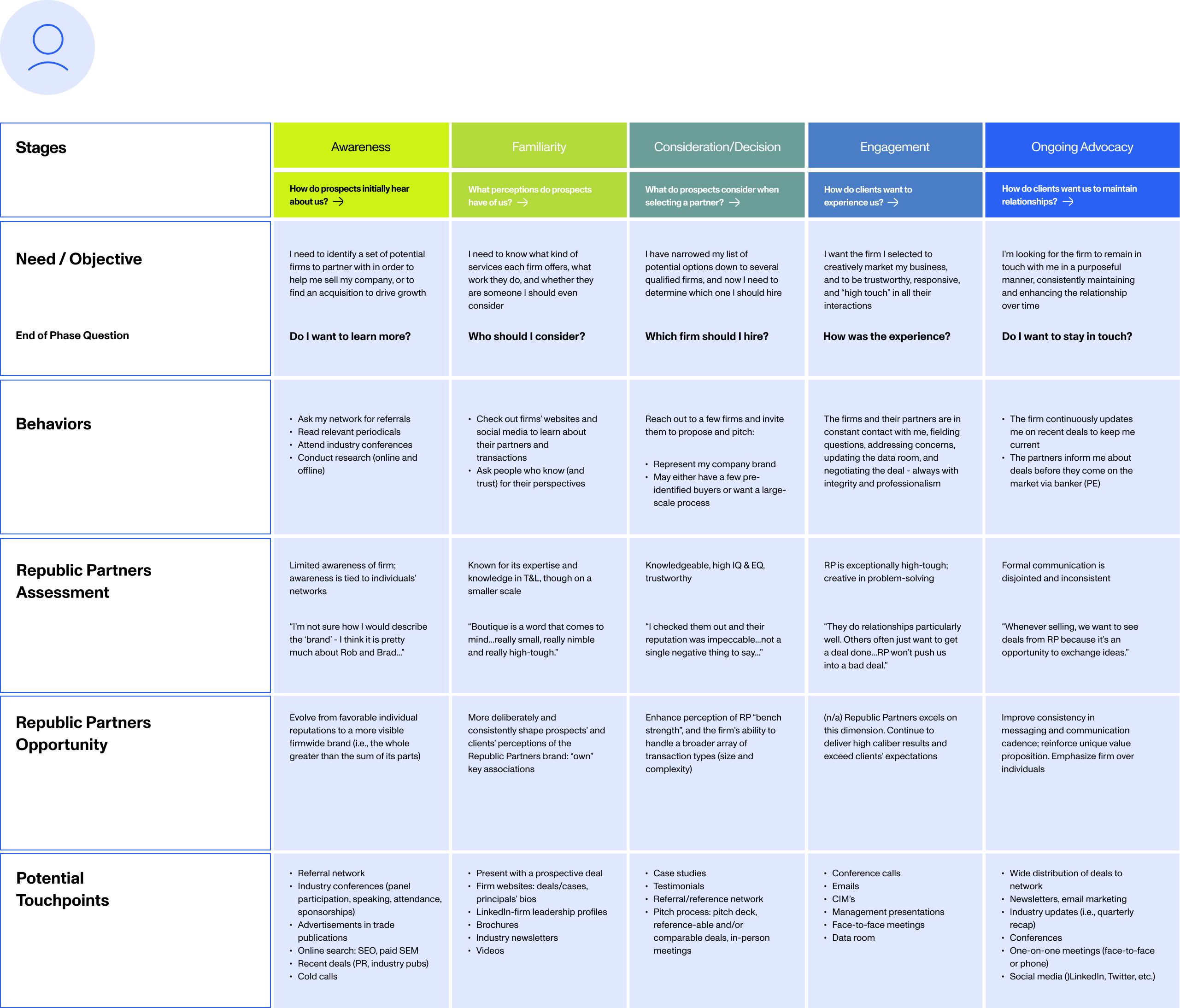 Impact:
Seamlessly transitioning from strategy to activation
Our strategic recommendations for value proposition and touchpoint optimization were enthusiastically embraced by the client's leadership team. Following the project, Republic Partners retained FullSurge's services in order to ensure a smooth and seamless transition from strategy to market activation. Specifically, our team led the search for a digital agency to completely redesign the firm's website. We also remained engaged throughout the website design and development process to ensure the agency's creative execution matched the strategic intent of the value proposition.
Robert Levin
Managing Director
FullSurge brought sophistication and breadth of knowledge that we lack. They helped us think about our business and sharpen our focus. Not only did they provide thought leadership, but they remained integrally involved to make sure that the strategy was brought to fruition.