Services
Our Brand Strategy Service Offerings
Building indispensable brands requires thoughtful, rigorous strategy combined with creative, compelling expression. Our ability to offer everything from insight to strategy to activation means we offer our clients an end-to-end approach to brand-building.
Insights
We believe a deep understanding of customer attitudes, needs and behaviors should underpin all brand strategy. As such, we incorporate cutting-edge qualitative and/or quantitative research methodologies—whether primary or secondary—into our project work. We have the ability to design and execute much of this research on our own, or we can partner with outside research vendors when required.
Strategy
Our brand strategy consultants are uniquely qualified to interpret market research findings and craft strategic recommendations that drive enduring, profitable growth. The brand strategies we develop—whether positioning, architecture, or extension and growth—are always inextricably linked to the business strategies they're intended to support. Importantly, they are also highly pragmatic and actionable, ready for immediate marketplace activation.
Activation
Even brilliant brand strategy is of little value without the supporting activation that brings it to life in the marketplace. Whether it's naming, visual identity, communication and messaging or customer experience, we have the ability to seamlessly transition between strategy and activation. This end-to-end approach ensures that market execution is not only creative and compelling but strategically sound and always "on brand."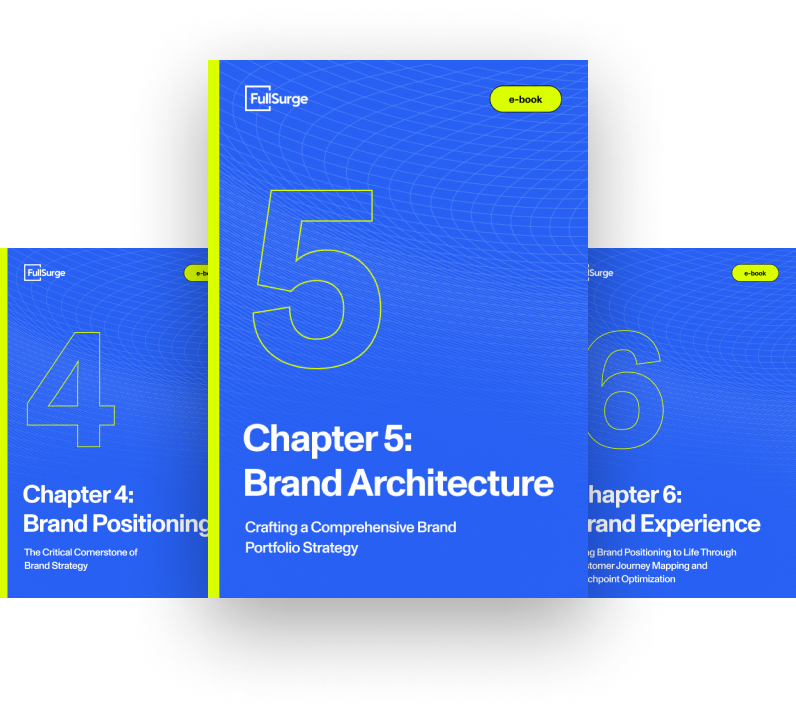 Free Chapter Summaries From Amazon Bestseller The Indispensable Brand
Discover Proven Frameworks for Brand-Driven Growth
Featured Clients
Client Testimonials
Ann Norman
Director of Enterprise Brand Strategy
Partnering with FullSurge brought critical brand strategy and growth expertise to round out our internal team. The work was well regarded across the organization and helped us expand our thinking beyond our industry, thanks to the FullSurge team's rich experience.
Elizabeth Usher
Chief Marketing Officer
We have worked together for several years, developing a new brand architecture for our organization. Taking an established brand and moving it to a new level while retaining its integrity and resonance are not easy tasks. FullSurge understands intimately how to do this in ways that ensure success. They listen well, respond to constructive feedback, and always act in true partnership to advance their clients' interests. Highly valuable counsel!
Lisa Majdi
Executive Director of Marketing
FullSurge was a strategic and collaborative business partner for us during a recent consulting engagement. They helped us make sense of a complex brand portfolio structure, and identify an architecture and naming convention that was intuitive for customers and consistent with our business needs. I would welcome the opportunity to partner with them again in the future.
Robert Levin
Managing Director
FullSurge brought sophistication and breadth of knowledge that we lack. They helped us think about our business and sharpen our focus. Not only did they provide thought leadership, but they remained integrally involved to make sure that the strategy was brought to fruition.
Dami Shepard
VP of Marketing
FullSurge is a premier consulting firm. Their dedication to truly understand our business objectives enabled us to move forward together to achieve our needs. Their output was actionable, and we adjusted our pricing and packaging because of their great work. This led to an increase in revenue for our company.
Steven Dominguez
Vice President, Global Brands
What I appreciate most about FullSurge is that they listen. They offer great expertise and business solutions, of course, but first and foremost they take the time to truly understand what your needs are and how they can approach it in a way that makes sense for the client. For me, that's the most important step that is often missed by others. I highly recommend the team at FullSurge.
Scott Knox
Vice President of Marketing
FullSurge clearly grasped a solid understanding of both our business and brand issues. Their quantitative segmentation study helped us identify the market segments that are most lucrative for our agency, and with whom we have the best opportunity to win. Equally important, the value proposition they crafted for us is helping us shape not only our communication and messaging, but our broader go-to-market strategy.