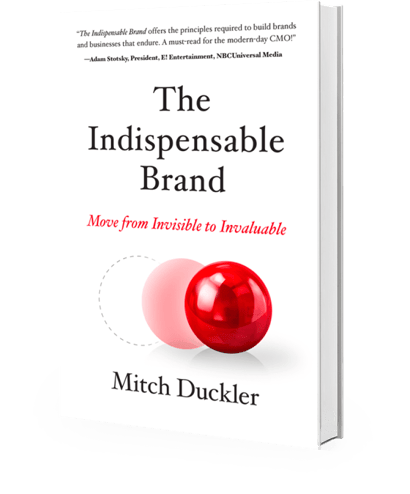 The Indispensable Brand
A strategic roadmap for more effective brand differentiation, helping marketers transform their brands from indistinguishable to indispensable.

by Mitch Duckler
founder and managing partner of FullSurge
Can customers identify your brand if you remove its name from packaging, advertising or another type of marketing? If not, your brand might be dispensable—and that's not a good thing.
Brands are among a company's most valuable assets, and they're more than just a logo or tagline. This book explains how to strengthen your brand to increase market share, command premium pricing and enhance profit margins.
In this book, you'll learn how to:
Develop a comprehensive brand strategy and articulate a meaningful, differentiated brand positioning
Create a brand story that fosters enduring customer relationships
Ensure every aspect of the customer experience aligns with the positioning
Identify transformative brand extensions and growth opportunities
Use digital activation to drive transactions and build long-term brand equity
Discover Your
Differentiator
Watch Mitch Duckler's 2021 TEDx presentation based on his Amazon bestselling book, The Indispensable Brand.
Praise for The Indispensable Brand
Rebecca Messina
Chief Marketing Officer, Uber
In The Indispensable Brand, Mitch Duckler proposes a number of significant changes to the ways we view and manage brands that can help combat brand monotony and achieve the goal of building brands our consumers truly cannot live without.
Adam Stotsky
President, E! Entertainment, NBCUniversal Media
In a world of short attention spans, skeptical consumers, insta-fads, and knock-offs, The Indispensable Brand offers the principles required to build brands and businesses that endure. Mitch's firsthand experiences and strategic insights serve as a must-read for the modern-day CMO.
Ann Rubin
Vice President, Corporate Marketing, IBM
In his book, The Indispensable Brand, Duckler shows us, through numerous real-world examples, how to develop brand positioning in a way that is inherently more compelling and differentiated…This is an important read for anyone who is tasked with brand-building.
Todd Tillemans
President, The Hershey Company
In The Indispensable Brand, Mitch Duckler questions conventional wisdom around what it means to be meaningfully differentiated, and he urges brand leaders to reflect this unique positioning in every aspect of the brand experience. This is an important read I'd recommend for anyone charged with brand-building in today's challenging business environment.
Tim Murphy
SVP Digital Marketing, Chubb
While the marketing landscape continues to change dramatically, the need for strong, differentiated brands remains constant. Mitch not only reminds us of this, but he also offers a clear road map for building powerful brands in today's crowded, fast-paced, and digitally-driven marketplace.
Steven Dominguez
Vice President of Global Brands, Hyatt Hotels Corporation
The Indispensable Brand is a great guide for anyone who wants practical examples of how successful brands are conceived and brought to life. For big and small brands, B2C and B2B, and both product- and service-based businesses, Mitch provides great insights, examples, and suggestions for how to do this for your organization.
Julie Fussner
Vice President of Marketing, Culver Franchising System
The Indispensable Brand offers an exciting new approach to brand strategy, starting with a significant advancement in how to think about brand positioning—a concept not reexamined since before the internet existed. Every marketer, or more accurately, every business leader must read this book to have a chance to survive—and then thrive—in this demanding age of the customer.
Yvette Morrison
Vice President Global Marketing & Brand/Caterpillar
Mitch Duckler reminds me why I fell in love with marketing, including all the nuances of attempting to understand ever-evolving consumer dynamics and translating that into emerging needs and opportunities. This book is a great read whether you are new to marketing or a seasoned veteran.