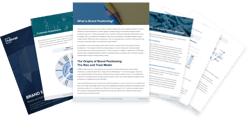 Take Your Brand From Invisible to Indispensable
Avoid brand monotony with chapter summaries from The Indispensable Brand
Gain access to all ten chapter summaries of The Indispensable Brand
In today's increasingly crowded and hyper-competitive business landscape, the pervasive problem of brand monotony has presented many brands with a crisis of identity. While successful differentiation is crucial for sustainable growth, breaking away from the trend of indistinguishability can be easier said than done.
To help guide brands on their journey from invisible to invaluable, we've crafted a comprehensive and compelling set of chapter summaries from the Amazon bestselling book, The Indispensable Brand. The Indispensable Brand leverages FullSurge Managing Partner Mitch Duckler's nearly 30 years of experience in brand strategy and consulting to offer an essential guide for businesses.
The series contains ten extensively researched and example-rich e-books, covering core strategic pillars of branding, including:
Brands in an Era of Digital Activation
Employee Brand Engagement
Brand Measurement and Marketing Accountability
Fill out the form to get a crash course in building a brand the world can't live without.