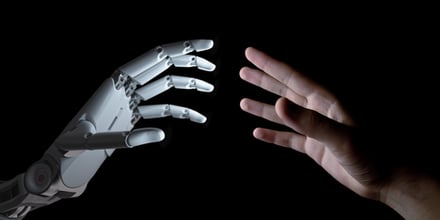 The term "artificial intelligence" undoubtedly evokes daunting images of robots replacing humans. In reality, however, the most successful use of AI is when machine-learning automation is combined with human directive to engage with customers more effectively.
Yes, it's easy to think of an AI-led world as a thing of the future where robots run businesses and TV characters like the 1960's Jetsons live in a futuristic world of flying cars, cities in the sky, and space tourism.
Most of us are flooded with articles and research about AI, marketing automation, analytics, and big data. But this focus on tactics and tools diverts our attention from the fundamental brand strategy implications that marketing strategy must reflect and inform business strategy, and digital tools are available to support this.
As artificial intelligence continues to become more empathetic (more face than the interface), AI will be able to listen to the tone of a customer's voice, analyze their emotional state, and use this information to deliver appropriate responses. This rapid advance radically shifts the landscape for brand marketers; they must suddenly transition from controlling messaging and media to a new model comprised of unplanned conversations and emotional exchange. In short, as businesses become experiences, brands must take on personalities.
Customers want more humanity from brands; in fact, an Edelman study found that customers will actually stop using (and even boycott) brands that don't match their values. The beauty of AI and machine learning is the ability to add unstructured data sources to identify gaps and areas of opportunity for your brand. But, before involving AI, it's essential to define the specifics around what your brand really stands for and cares about.
When Under Armour bought the MyFitnessPal health tracker app in 2015, it inherited an abundance of data. The activewear brand used machine learning to parse data and better understand its customers and, thanks to machine learning, discovered the fastest, most die-hard runners go for shorts with 7-inch seams. Under Armour's marketing team then tweaked their content strategy and pushed more relevant, personalized content to that consumer segment. The data also inspired them to develop new products, including a chip-powered shoe, to help increase runners' speed.
McDonald's Aims to Offer More Relevant Choices
McDonald's recently announced that it reached an agreement to acquire Dynamic Yield, a tech startup based in Tel Aviv that provides retailers with algorithmically driven "decision logic" technology. The burger giant that serves about 68 million customers every day will deploy Dynamic Yield to draw insight and intelligence to offer data-driven meal choices. For example, the technology can change menus options automatically depending on the weather, time of day, and traffic and suggest milkshakes and McFlurry ice cream on hot days, or tell customers which items are trending at that particular restaurant that day.
In line with the brand strategy and promise of "simple, easy enjoyment" regardless of the McDonald's location, the ultimate aim is to provide a "much more personalized experience" and suggest additional items based on the customer's initial order. Dynamic Yield has designed algorithms that use shopping patterns and past purchases to indicate what items you will buy next and produced machine learning systems for other big name brands including Ikea and William Hill. McDonald's is merely keeping pace with technology and staying in front of consumer needs.
The key to building a differentiated brand that stands out in today's proverbial "sea of sameness," is connecting with consumers on a personal level. In short, branding is about creating relationships by understanding who exactly your audience is, and what they want. Part of what's unnerving for brands and consumers alike is how vast the world of AI and machine learning feels. It's expansive and multifaceted–an enormous and often risky investment for brands who aren't sure how to approach it. The answer lies in the ability to use machine learning and human insight together to improve your brand strategy.