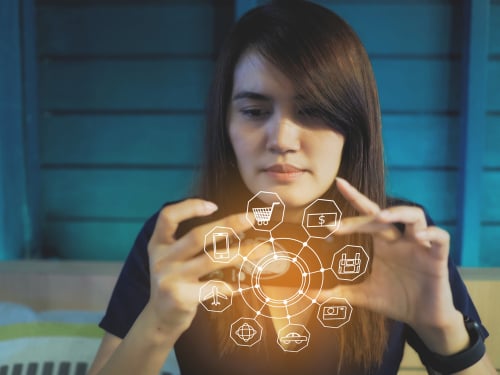 The world is growing increasingly complex and fast-paced. Technological advancements enable more and more brands to get the basics right. Copying is becoming increasingly easy as the sameness of more products and services makes differentiation more difficult. In the age of the customer, brand leaders have a steep hill to climb in building their brands with distracted, empowered consumers. Fortunately, brand-inspired customer experiences can help mitigate these effects. In this new era, brand marketers must shift from a company-centric approach of managing brand as an asset to a customer-obsessed one of creating a resonant brand experience.
What exactly is a brand experience?
In increasingly competitive markets, brands are challenged to differentiate. When most competitors are already delivering satisfying experiences, meeting customer expectations is no longer enough to drive success. Brand experiences are interactions so impactful and uniquely identifiable to a particular company that they virtually define the brand in consumers' minds, distinguish it from competitors, and favorably influence future behaviors.
Unique, amusing, and compelling experiences can help brands stand out and maintain relevance with consumers. However, rather than differentiating in unique and creative ways, too many brands are merely adding to the information overload with generic messaging, campaigns, and marketing initiatives. They're missing powerful opportunities to make a stronger impression, simplify the complex, make everyday tasks more fun—and win loyal fans in the process.
Some brands are succeeding in keeping people motivated and engaged. Here are three of their strategies:
Marketing Gamification — Gamified content is engaging, so people remember it. This, in turn, increases brand awareness and brand loyalty as visitors interact more with your content (e.g., remember McDonald's Monopoly?). After using points and badges to gamify their website, Verizon Wireless increased browsing time by 30% among half their users. Similarly, Ford Motors increased sales by more than $8 million and boosted Facebook likes by 600% with gamified content.
Loyalty reward programs are gamified by design. With Starbucks' "My Starbucks Rewards" program, as customers increase their spending, they are rewarded with points that they can put towards future purchases. This gamification example demonstrates how the purchasing process encourages customers to keep coming back to earn more points they can put towards future rewards.
In short, people enjoy interactive content, and they enjoy playing games. Gamified marketing combines both, giving visitors a unique experience that doesn't exist in traditional marketing.
Branded Playgrounds (for brand storytelling) — To differentiate your brand and win big, you need to engage customers in new ways. According to cognitive psychologist Jerome Bruner, we are 22 times more likely to remember a fact when it has been embedded in a story. The playground technique is a system for creating multi-channel stories and strategies that drive WILD engagement with audiences online. Consider the following:
Overcoming the colossal
Rags to riches
Pursuing adventure
Voyage and return
Comedy and entertainment
Tragedy to rebirth
As you create content, consider how you can apply an interactive or visual element to boost its effectiveness.
Surprise and Mystery — Consumers today have endless choices and, when it comes to marketing, they've pretty much seen and heard it all. A campaign or event that involves surprise and the unknown, however, can delight consumers with unexpected fun. For example, many hotel sites, offer secret excursions and mysterious weekend trips.
In a stunt that created an air of mystique, Amazon delivered its largest-ever package to drum up excitement for the "Jurassic Park: Fallen Kingdom" movie. The enormous package also featured the hashtag #AmazonFindsAWay to direct curious onlookers to social media and investigate what might be inside the box and buy tickets for the movie. Amazon marketers saw an opportunity to spark brand buzz online with a mystery-laden strategy.
To deliver beyond expectations, brands need to bring their A-game and create experiences that are as emotionally thrilling as they are satisfying. Why does that matter? Because, when brands and consumers share emotionally rewarding moments, brand relationships are enhanced and brand value grows.