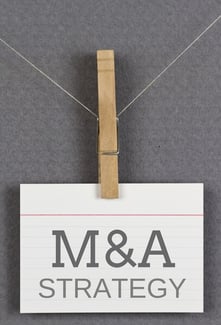 In 2016, there were over 45,000 M&A transactions worldwide. With this number in mind, it's staggering to learn that poorly conceived or executed mergers and acquisitions destroyed more than $200 Billion in shareholder value in a 20-year period. In fact, NYU Stern professor, Ashwath Damodaran, reported: "More value is destroyed by acquisitions than any other single action taken by companies."
The first in our three-part series addressed the role of brand portfolio strategy and architecture within M&A and the critical function of the Corporate Brand in M&A efforts. Here we will discuss brand's role at the product/service level, post-M&A.
When evaluating a product/service portfolio post-M&A, there are numerous questions to consider. Many of these questions pertain more to overall business strategy than pure brand strategy. They include:
In which markets will we be participating, and to what extent?
Which customer segments are we targeting?
How many brands do we need to sufficiently participate in those markets/with those target segments?
What is the right scale of those brands for the size of our business and the industries within which we operate?
In which markets do we have too many brands to compete effectively? In which markets do we have deficiencies in our portfolio?
Strategic portfolio management relies on thoughtfully analyzing not only the profile of each brand but also the underlying categories and markets they serve. Following is a three-step process for determining the optimal portfolio strategy at the product/service level.
Step 1: Identify a Framework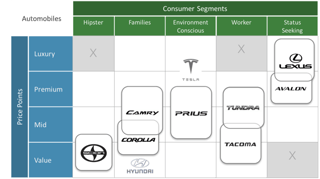 A brand portfolio (including one resulting from post-M&A activity) should bestructured based on a few overarching organizing principles. Brand portfolios can be organized in a variety of ways—by the products with which they identify, by universal needs of a category, or by customer segments. A two-dimensional portfolio framework like the one in Figure 1 enables organizations to map potential considerations and identify the most logical organizing structure. Examples of axes include target markets/consumer segments, product categories, price points, and customer benefits. When evaluating which axes to select for a framework such as this one, take into consideration the following questions:
Does the potential axis reflect how customers "shop the category?"
Does the potential axis meaningfully differentiate brands from one another?
Does the potential axis provide the business with a competitive advantage?
Is the potential axis forward-looking? Will it be relevant for the foreseeable future?
Step 2: Select Optimal Brands
After establishing the framework (x- and y-axes), it's time to overlay brands within it. When placing brands within the framework (i.e., at the intersection points of the two axes), strive to achieve the following objectives relative to individual brands and the portfolio overall:
Relevance & Coverage—Chosen brands should be relevant to different and high-value target customer segments (e.g., value tiers, need-states)
Clarity and Distinction—Consumers should perceive clear differences between brands within the portfolio, and employees should understand the differences in the strategic roles for each chosen brand
Maximized Synergies—Synergies should be realized across the portfolio. Brands within the resulting portfolio should be complementary rather than duplicative. They should work together to increase market/wallet share, with minimal (if any) overlap
Optimized Resources—There should be sufficient resources available to promote, manage, and grow each brand in the portfolio
Appropriate Leverage—Ideally, brands should be able to extend across a spectrum of offers/targets. In many cases (especially for B2B), the corporate brand should be leveraged to increase influence over select target audiences
Critical Scale—Each brand should achieve at least a minimum level of scale (revenue, share, etc.) to justify allocating the resources required to support it on an ongoing basis
Step 3: Articulate the Strategy
Once the framework has been defined, and brands have been chosen to "populate" it, it's time articulate a formal brand portfolio strategy. A solid brand portfolio strategy should include the following components:
Strategic Roles for each Brand—The core business purpose, or strategic intent for individual brands. Why the brand exists from a business perspective (e.g., to flank a leader brand, to challenge a competitive brand, to penetrate a given segment)
Market Scopes of Brands—Which geographic and customer segments each brand is intended to cover and which product categories it is expected to serve (from Step 2 above)
Brand Relationships—Often referred to as brand architecture, this dictates how brands in the portfolio should relate to the parent brand and/or to other portfolio brands (if at all); whether and to what extent linkages should be explicit; and, if brands are to be explicitly linked, the best way to establish this linkage (endorsing, sub-branding, etc.)
Migration Plan—A well-thought-out approach toward deliberately moving brands in the portfolio to their desired end-states, over predefined periods of time. Also, if brands are to be rationalized, the process for doing so to mitigate business risk and minimize the likelihood of alienating customers
In our next post on the role of brands in M&A activity, we'll dive deeper into how to successfully transition and/or rationalize brands following mergers to mitigate risk (the final point in the list above).