When it comes to implementing a comprehensive brand measurement system, what marketers actually do with the data they capture is as important as the data being captured. Marketers can benefit from thinking about measurement along three distinct time horizons. Each of these has a different capacity to drive decision-making capabilities and impact business performance.
DIAGNOSTIC: THE PAST
Brand tracking should, at minimum, help brand managers diagnose the impact of their past activities and overall health of their brands. Digital brand management has taken diagnostic capabilities to a new level. For example, digital attribution models can diagnose results and explain whether specific activities contribute to business performance metrics.
PRESCRIPTIVE: THE PRESENT
The use of past performance and current brand health data in a prescriptive way is more powerful than a simple diagnosis. Marketers can set objectives and targets for select brand metrics that trigger specific tactics. A company in the midst of repositioning to a more aspirational brand promise, for example, may establish market-driven milestones on particular brand attributes that trigger a shift in focus to bolder aspects of positioning. Brand metrics thus help marketers make more data-driven decisions as they manage their brands.
PREDICTIVE: THE FUTURE
As the name suggests, predictive analytical capabilities are all about the future. These analytics help marketers determine the likelihood of certain events and use that knowledge to prepare accordingly. This kind of measurement science is up-and-coming but could have powerful implications for how marketers manage brand equity. The sophisticated modeling that is involved could help executives make tactical and strategic decisions that consider the short-term effects on business performance and the long-term effects on brand equity.
These three time-based lenses highlight the powerful effect that brand measurement can have on a CMO's ability to achieve real marketing accountability.
Understanding Types of Metrics
Types of brand metrics that companies can potentially track differ by industry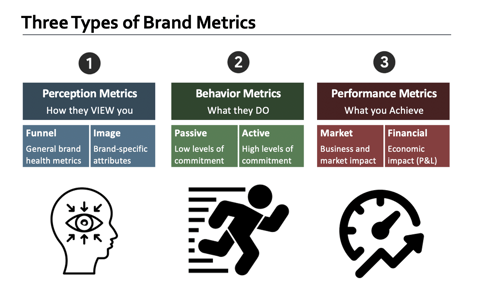 and by the organization's goals and intended uses of metrics. Needless to say, companies interested in linking brand activity to business performance must track more and different types of metrics than those interested only in tracking basic brand health.
In general, three types of metrics comprise an effective brand measurement system. The first two categories are about the customer and the brand. The third one considers the impact of the first two categories on the organization itself.
PERCEPTION METRICS
Brand perception metrics are about how customers view the brand, and they can be broken down into two subcategories: brand funnel and brand image.
Brand funnel metrics are the most common metrics. They tend to be reasonably consistent across companies and help marketers understand the underlying health of their brands. Examples include:
Awareness
Consideration
Preference
Purchase Intent
Favorability
Satisfaction
BEHAVIOR METRICS
Behavior metrics, sometimes called engagement or interaction metrics, explain what consumers actually do—the actions they take. Becoming increasingly popular due to the emergence of digital marketing and social media, they can be broken down into two subcategories: passive and active.
Passive behavior metrics tend to occur earlier in the purchase funnel and include low-involvement and low-commitment forms of interaction. Examples include:
Browse a website
Write a review
Download an article
"Like" a post
Click on a link
Provide contact information
According to the Pew Research Center, more than 80 percent of internet users seek online product reviews, feedback from social media, or discussion forum recommendations before making a first-time purchase decision. This makes these metrics critically important.
Active behavior metrics are further down the purchase funnel, where the levels of interest, involvement, and effort are higher. Examples of these include:
Submit a "Contact Us" form
Request information
Issue an RFP
Request a presentation pitch
Contact references
Make a purchase
These all exhibit a high level of engagement and interest, even if a commercial transaction has not yet occurred.
PERFORMANCE METRICS
Performance metrics are essential for connecting investments, initiatives, and activities of brands to the financial results of the business. Marketers should consider these metrics from both a nonfinancial and financial perspective.
Nonfinancial performance metrics are not inherently quantifiable, but they tend to be strong indicators of financial performance. They represent a link between direct financial measurement and brand activity. Examples of these include:
Unit sales
HH penetration
Market share
Sales velocity
Distribution
Share of wallet
Financial performance metrics are typically found on a company's financial statements, such as its income statement. The ultimate goal of any for-profit business is to drive performance on these metrics. Examples of financial performance metrics include:
Revenue
Operating margin
Profitability
Brand valuation
Return on investment
Earnings/net income
Business performance metrics, in general, are a central component of any marketing accountability effort. The challenge is to establish a credible link between the first two categories of metrics and the third.