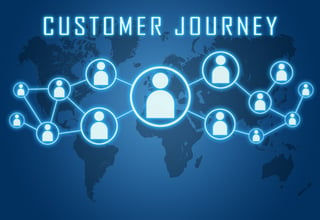 As technology advances, customers become more demanding—the more connected we become, the more impatient consumers get for brand experiences that are more meaningful and impactful than before. Consumers expect brands to know their individual needs and personalize the experience, and immediate resolution is not fast enough; digitally empowered customers expect companies to proactively anticipate their current and future needs, interests, and preferences.
Most organizations are good at gathering data on their users. But data alone often fails to communicate the frustrations and experiences of customers. Building long-term trust and loyalty requires exceeding customers' expectations—knowing who they are and what they want (by demographic, buying behavior, psychographics, etc.) at each touchpoint along the buying journey.
According to a study by intelligence consulting firm, Walker, "Customers 2020: The Future of B2B Customer Experience," by 2020, customer experience will overtake price and product quality as the key brand differentiator. Successful B2B brands have recognized the shift, and are aligning the right resources and focusing on the right metrics. Enlightened organizations view the customer experience as a strategic, C-level initiative.
As the pace of innovation continues to accelerate, and B2B brands struggle with how to deliver a remarkable customer experience, customer journey maps are emerging as a key tool. Journey maps can instantly arm you with data and insight on how customers interact with your brand. These maps visualize what it's like to be your customer—quickly and efficiently.
B2B Buyers Purchase in Teams
The purpose of customer journey mapping for both B2C and B2B brands aligns conceptually, however, for B2B brands the process can be a bit more challenging. A B2B environment generally involves several "personas" within the customer organization, and those personas are generally engaged at different points in the journey for different reasons. For example, a senior executive might initiate a buying process but delegate the exploration to other individuals on the team before making a purchase decision.
Personas Do Matter
B2B organizations must account for multiple "personas" within "one customer" and therein lies the challenge—multiple individuals who have their own unique needs, emotions, and motivations. Approaching each persona's journey individually helps clearly define how each individual's journey affects and is affected by the journeys of the other personas.
Additionally, buyers have different needs at different stages of their buyer journeys. It is important to understand buyers' context and identify the questions that need to be addressed at each stage. It's also important to understand what will trigger a buyer to progress to the next stage and identify the barriers.
Multi-channel Touchpoints
Customer journeys include many things that happen before, during, and after experiencing a product or service. Beginning to end, journeys can be long, stretching across multiple channels and touchpoints—websites, retail stores, email, social media, mobile etc.—and customers expect a seamless experience across all channels. Every touchpoint presents a valuable opportunity to engage with your customers, listen to what they to say and use their feedback to optimize the customer journey.
Content Alignment
Once you understand the customer journey across multiple channels and touchpoints, you can align your marketing content against the context of the customer journey map. Does it align with customers' goals at each stage? Replace what you want customers to know at each stage of the customer journey with customers' needs and wants in the context of each interaction in the customer journey.
Look for gaps in the customer journey and create new strategic content accordingly. Content should align to the buyer persona (who), buyer stage (when), channel (where), and touchpoint/interaction (what) on the path to purchase with your business. Aim to create better customer journeys in order to deliver better CX, and in the end, nurture loyalty and profitability.
Customer journey maps empower you to learn and better understand customer needs, thereby leading your brand to deliver value to your customers; it is a key part of creating a personalized experience for today's demanding consumer. With a little planning and observance of best practices, you will be ready to identify opportunities and barriers for consumers based on their goals, perceptions, and emotions. In turn, you'll be better prepared to engage them at any point in their journey.