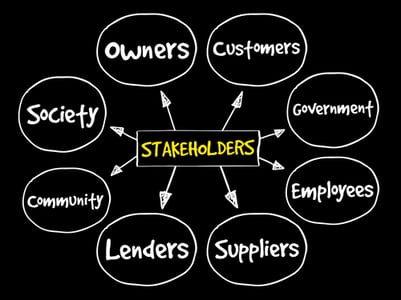 In the last post, A Modern Approach to Identifying Your Target Market, I discussed that the first component considered when establishing a brand positioning should be the target audience—the "who," (e.g., stakeholders) the brand is intended to serve. While the target audience remains an essential part of the brand positioning model, it needs to be considered more expansively. Traditional considerations of target audiences often fall prey to two potential shortcomings:
The current definition of target audience assumes a brand operates in a world in which there can be only one target, but the target audience need not be singular. In fact, it is almost ingenuous to believe a brand today has only one target audience.
A target audience need not necessarily be customers; most companies have additional stakeholders who can dramatically affect the company's destiny and who should be considered when positioning brands.
Following are two real-world examples I have seen in my work as a brand consultant of how global, iconic brands aim to expand and diversify their target audiences.
Apple Card: The Expansion of Big Tech into Fintech
Apple seeks to move beyond hardware and gain more recurring revenues and fees stemming from services. The global tech giant is partnering with Goldman Sachs and Mastercard to provide "the support of a bank and a global payments network" and is issuing a credit card that will link with the iPhone. With iPhone sales slowing, Apple's announcement that it plans to launch its own credit card – Apple Card – doesn't come as a big surprise to many in the banking industry; it was just a matter of time before a major tech giant got involved in the banking sector.
What impact will Apple Card have?
Apple Card isn't offering anything significantly different than existing products. However, what Apple has that competitor banks probably don't is an established brand with a cult-like following. Leveraging its reputation as a mainstay of data privacy (Apple claims that it will not store user data generated via Apple Card, nor will Goldman Sachs) it may be in a strong position. As an established technology brand, Apple has the power to reach millions of users overnight and, if it deems it necessary, the financial strength to support the new offering, even at a loss, for quite a while, offsetting the loss with its immensely successful product sales.
What is noteworthy here is the extent to which Apple Card will mean improved brand loyalty through the cash back incentives and rewards available. Users will be increasingly tied to the Apple ecosystem, with the card seamlessly integrated into existing Apple devices. In fact, Wells Fargo commented that it sees the Apple Card as "a positive long-term driver of Apple's extending ecosystem."
Naysayers believe the company should focus on improving its smartphone sales and that Apple could be spreading its focus too thin. Many think the company should stick to what it does best and focus on smartphones – particularly in light of wireless charging, foldable devices, and 5G. In the case of the Apple Card, it begs the question of whether other tech giants will soon follow suit. Will Amazon be the next tech giant to enter the banking market?
Microsoft's Corporate Social Responsibility Strategy
With its continuously improving corporate social responsibility (CSR) strategy, Microsoft Corporation addresses stakeholders' interests that significantly impact the business. As a major player in the global market, the company satisfies such interests (and enhances brand and corporate image) through appropriate corporate citizenship programs based on international standards and guidelines.
Microsoft focuses on the most significant interests through its corporate social responsibility initiatives, which emphasize human rights, environmental sustainability, and business transparency. The following are the major stakeholder groups in Microsoft's business:
Customers (highest priority stakeholders)
Employees
Communities
Investors
Governments
The company ranks high in addressing its stakeholders. Microsoft's emphasis on human rights, environmental sustainability, and transparency ensure that this corporate responsibility strategy remains relevant to current market conditions.
Beyond the ability to target multiple customer segments, no law says the only important audiences to whom brands have to be relevant is customers. There are many other categories of audience (or stakeholder groups) beyond customers that can directly impact—whether positively or negatively—a brand's marketplace performance. In Microsoft's case, people or entities other than customers make up at least one important target audience.