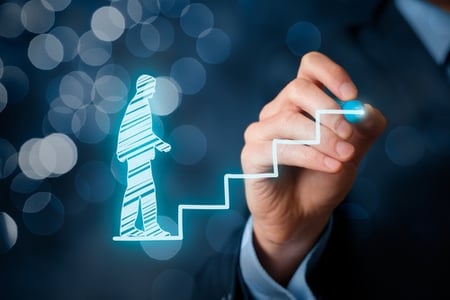 Source: Edubirdie
In our previous post, Empowering Employees to Deliver the Brand Experience, we looked at employees' valuable role in bridging the trust gap by becoming brand champions for the organization and cultivating relationships with customers and prospects. Because "an average employee advocate is two times more trusted than a company CEO." Implementing the right internal branding strategies helps organizations build brand champions and achieve desirable outcomes, including job satisfaction and employee loyalty.
It's imperative that companies build brand admiration among employees. As brand strategy consulting professionals, we agree this makes sense. After all, if the people who represent the brand and deliver its promise to the outside world don't themselves admire it, how can they credibly convince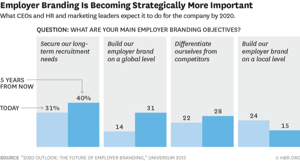 customers to do the same? Customers and other stakeholders often see employees as synonymous with the brand. A robust employer presence is becoming more critical for companies looking to secure and retain key talent. Furthermore, many leaders now believe the responsibility for the employer brand is with the CEO or marketing rather than HR, with 60% of CEOs saying it lies with them. So, how do organizations approach boosting their employer brand?
Begin with a Meaningful Mission Statement
A mission statement is an essential for your brand strategy. Your mission statement is not only motivational to the customer, but it should also motivate your employees. Think of it as the "what we do and why" declaration. Employees who are aware of your brand distinction and company purpose can clearly convey what differentiates you from your competitors. And, with this clear understanding of your brand distinction, they are more prepared to interact with customers in an appropriate and effective manner, which in turn, positively affects how customers view, and most importantly experience, your brand.
Invest in Career Development Initiatives
Today's workforce is dominated by Millennials—expected to make up 75% of the workforce by 2025. This demographic expects opportunities to learn new skills and further develop existing skills. In fact, their desire for learning opportunities is so considerable, research by Gallup reported that over half of millennials rated it as 'extremely important' when applying for a job. Therefore, companies prepared to meet this expectation can consider it one way of making themselves more attractive and differentiate from competitors.
Personalize the Employee (and Candidate) Experience
Employee experience is key to nurturing a workforce and reminding them that they are more than just a number. Here are a few ideas:
Map out career progression. Mapping a career roadmap gives employees a well-defined and documented process that will help them advance through the organization. This customized plan diverges from the one-size fits all approach and invests in an individual's future.
Recognize employees. Recognition boosts morale; recognizing individuals for their efforts either on a digital forum such as social networks or at a quarterly event helps create a motivated work environment and acknowledges efforts.
Nurture relationships. A pivotal relationship with employees is the relationship with their immediate supervisor. Executives need to keep that in mind and learn more about their employees than merely their day to day role. Going the extra step helps to connect with employees as people.
Communicate Internally
It's human nature to want to belong. Communication is vital to ensure every function in the organization understands the value in building a strong employer brand and their personal role; it is the best way to keep employees in the loop and engaged with work culture. If employees feel alienated, it's easy for them to stray from the company vision and lose sight of your brand promise.
Empower Employees through Your Brand Strategy
You hired your employees for a reason; you trust them, or they wouldn't be there. Support them in the same way you would support your customers. Making them aware of your brand distinction, and giving them the tools to execute and deliver a consistent brand experience, enables your brand to flourish and differentiate from the competition.