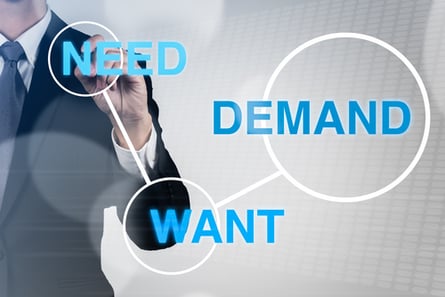 Brands must continually grow to thrive and maintain relevance, however, achieving and sustaining profitable growth is a challenge. One of the most common ways for an established brand to achieve meaningful growth is through brand extensions, but many brand leaders struggle with how far they can (or should) stretch their brands' boundaries. Play it too safe, and ho-hum line extensions will underwhelm customers; stray too far from the brand's core positioning, and you risk diluting or causing irreversible damage to your brand's valuable equity.
The failure rate of brand extensions is well-documented; research from EY reveals that brand extensions fail at an astonishing rate of 84%. So why is it that something that appears so straightforward has such a dismal success rate?
Explanations for this poor track record can usually be traced back to one or more of three fundamental reasons:
There is no demand (i.e., need or desire) for the extension. If it doesn't solve a problem or improve an existing process, the extension will likely fail.
Although there may be demand, the solution offered by the brand is uninspiring or inadequate.
Where the need is real, and the solution adequately addresses it, the brand itself is either irrelevant or a poor fit for the solution.
When all three factors are met—demand, solution, and brand relevance—the potential for success is high. The remainder of this post, we'll dive into the first factor, demand, and in subsequent posts, we'll address solution and relevance in greater detail.
Insufficient Demand
Obviously, no brand extension, or any new product or service for that matter, can be successful if there the demand isn't there. There must be a need or desire; or, if one doesn't exist, the brand must first find a way to create the need or want (more difficult, but nevertheless a viable path). It's bewildering how often new products or services launch into the marketplace with no apparent problem to solve or need to address.
Sometimes there is a need, but it's being adequately met by existing solutions. Do we really need another carbonated drink? Probably not. Clearly, it is not enough to know there is a problem or a need. The extent to which that need is met by current solutions is equally important. Ignorance of this condition partly explains the presence of so many me-too offerings in the market.
In 1992, Pepsi jumped on the clear and natural bandwagon, launching Crystal Pepsi, a clear version of its flagship cola product. However, although consumers were looking for more natural, healthy products, bottled water was stealing market share from carbonated beverages. There was simply no demand for a clear variation of loyal consumers' preferred cola.
Even when a need exists and lacks satisfactory solutions, however, the market must be large enough to justify the business opportunity. In other words, the opportunity may be too niche.
In 2006, Mobile ESPN leased network access from Verizon Wireless and aimed to sell a phone that offered exclusive ESPN content and video. But ESPN had only one phone option at launch, a Sanyo device that sold for $400—would you spend $400 on a phone with only one utility? No one bought it, and ESPN quickly discontinued the service, instead providing content to Verizon's mobile internet service. And the rest is history; smartphones essentially averted the entire concept.
Don't Stop with Asking Consumers What They Want
When it comes to consumer wants and needs (i.e., potential demand), consumers often don't know they have an unmet need, or even if they do, they may struggle to articulate it. Post-it notes, laptops, ATMs, Wi-Fi, and iPads and tablets. Clearly, these were not things consumers knew they needed, much less were asking for.
Maintaining a successful brand is all about finding the right opportunities for growth. Brand extension strategies are an excellent way to spread your business into new areas. However, like any significant change in your brand strategy, a brand extension needs thorough planning and focus. You'll need to make sure that your extension feels natural; otherwise, you could risk stretching your company out of shape.
If you need help launching your brand extension strategy, our brand strategy consultants have the knowledge and expertise to help your company successfully extend with care.