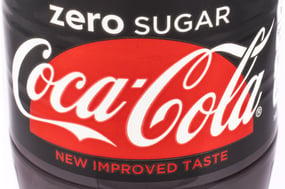 Coca-Cola is stepping up efforts to drive transformation into a "Total Beverage Company" that relies less on its core carbonated soft drinks. Last January, transitioning away from its traditional brand architecture, the 131-year-old global behemoth that sells 500 brands in 200 countries, streamlined its trademark brand portfolio into a cohesive "One Brand" strategy.
The goal is to portray all Coca-Cola varieties as a single brand, reinforcing the fact that people can enjoy great Coke taste and refreshment with fewer calories or zero calories and discourage "switching between brands." Diet Coke and Zero Sugar are simply customized choices for drinkers who at times want no-sugar versions rather than separate brands.
The megabrand's CEO, James Quincey, mapped out a new business strategy by adopting a global template for marketing its flagship Coca-Cola products. Its latest campaign, "Taste the Feeling," unites the marketing message for Coca-Cola, Coke Zero, Diet Coke/Coca-Cola Light and Coca-Cola Life.
A "New and Improved" Rebranded Coke Zero
Coca-Cola Zero was launched in 2005 to give fans a calorie and sugar-free option with an original Coke taste. This year, the company plans to reduce sugar in more than 500 of its drinks. Beginning this month, Coca-Cola Zero will rebrand with a new name and a new look that reflects the One Brand strategy. The no-calorie favorite will now be called Coca-Cola Zero Sugar. The updated package design looks more like Coca-Cola and prominently features "Zero Sugar" text to emphasize the drink does not contain sugar.
Will Consumers Understand?
The Zero Sugar name is intended to increase awareness and better communicate that it contains no sugar to attract consumers cutting back on sugary soda in favor of healthier drinks. In recent years, the negative reports of sugar's link to obesity have emerged as a major threat to soda brands and intensifies as more local governments legislate taxes on sugary drinks. Last year, PepsiCo made a similar change when it rebranded Pepsi Max as Pepsi Zero Sugar. It promoted the shift by making Pepsi Zero Sugar (not regular Pepsi) the sponsor of the Super Bowl halftime show.
But sugar is a bad word these days (the new tobacco). With increased focus on the negative health effects of excess sugar consumption (e.g. obesity and chronic diseases), will displaying it so prominently on the package call attention to the very ingredient that they eliminated and confuse some shoppers?
At the same time, increased skepticism of artificial sweeteners has led to weakened sales for zero-calorie beverages. Most of the concerns center on aspartame, a sweetener often used in diet colas. The company claims a "new and improved" recipe and taste stating, "We optimized the blend of flavors that gave Coke Zero its real Coca-Cola taste," however, Coke Zero Sugar has the same ingredient list as Coke Zero—in the same order—including aspartame. According to a company spokesperson, tweaking the natural flavors "could help ingredients interact with each other in a more flavorful way."
The U.S. rollout comes after Coke already introduced Zero Sugar in more than 25 markets around the world. Interestingly, sales of Zero Sugar (including legacy recipes) have grown by double digits globally year-to-date. The company's second quarter results beat analyst expectations and among the positivescited was a strong global performance by Coke Zero Sugar.
Whether U.S. Coke Zero fans will jump on the Zero Sugar bandwagon remains to be seen, but evidence suggests the transition will be met with some opposition. Many loyal fans are upset that Coca-Cola Zero will not be available and are taking to social media to express their displeasure. However, it remains to be seen if the new recipe will bring as much displeasure to consumers as the 1980s New Coke marketing disaster.