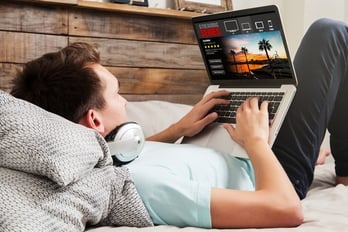 Let's face it, your brand doesn't exist without your customers; no one is going to buy anything from you if they don't know you exist and, no matter how awesome your product/service offering, it's completely irrelevant if no one is using it. That's why increasing brand awareness is key to any successful marketing strategy—it's that simple.
Brand awareness is the first step toward consumers considering your brand and the foundation for brand equity—the set of positive associations that add value to your brand. With an effective brand awareness strategy, you can improve the way consumers interact with your business both in person and online.
Effectively change the way consumers and potential clients do business with your brand by adopting flexible, informed and targeted digital marketing tactics. Your ultimate goal is to increase sales and conversions via long-term brand loyalty of your customers, and any long-term brand loyalty includes creating that initial awareness and exposure through digital channels.
Building a strong brand, in today's increasingly digital culture, is virtually impossible without a comprehensive digital marketing plan and marketing strategies that help keep your brand in the forefront of your target market.
Over-The-Top (OTT) Content as a Means for Brand Awareness
OTT content is delivered via the internet (e.g. Netflix, Amazon Prime Video, YouTube, Hulu, etc.). Customers choose with their keyboards, visiting the video sites that appeal most to them. People can now essentially curate their programming lineup to be watched at any time on a variety of conduits. OTT is a massive growing content trend that experts predict will overtake traditional and cable TV broadcasting before 2020.
A recent report from Anatomy Media, "The Young and The Brandless," provides an in-depth look at the media consumption habits of young millennial viewers. Key findings revealed OTT platforms are the most common way young millennials watch "television" content (71%), and linear viewership (time-and-channel-based TV) is rapidly declining.
With more premium video content being made widely available on connected TV apps and OTT devices, an increasing number of brands are shifting ad dollars to OTT trying to reach an audience that no longer buys cable packages. In some cases, digital spend is overtaking TV spend because brands realize that's where consumers spend most of their time. Many big brands have gone from viewing advertising on Facebook and YouTube as a way to encourage conversation around viral content to using it as a means to increase awareness with mass audiences and build their brands online.
Heineken Prioritizes Mass Reach
Heineken is among the brands shifting its focus from TV to Google and Facebook as the digital platforms become the new preferred way to increase awareness. When Heineken tested Desperados, its tequila-flavored beer, it used both television and digital media to reach consumers. With TV, they measured zero-percent awareness and with digital, 23%. That insight led to an allocation of 25% of its total budget to digital.
YouTube Viewers Migrating to TV?
When you talk about YouTube, most people think mobile phones or laptops and short-form shows for audiences on the go, but YouTube viewers are increasingly returning to their living rooms. With smart TVs now internet-connected and app-enabled, it's easier to stream OTT to the larger screen and channel surf like the "old" days of TV—people watch on the biggest screen available to them wherever they are. In 2016, TV screen viewership grew 90% compared to 2015 and, in 2017, viewership on television screens is predicted to rise another 90%.
NBC's minutes of YouTube clips on TV were up 65% year-over-year. That's fewer minutes than mobile and laptop, but these changing viewer habits present new marketing opportunities. YouTube allows brands to target living rooms through the Google Preferred ad market, a video ad program reserved for select brands to show ads alongside select content.
Being more visible to your target audience is key to increasing the awareness of your brand. Today's OTT services give marketers valuable opportunities to boost brand awareness. But they must begin by understanding their target consumers—when are they most likely to engage and with which devices—then use that data to facilitate conversations at the times those audiences are most likely to respond.