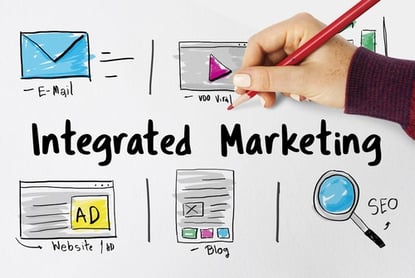 If your b2b branding strategy doesn't include an integrated marketing approach, your brand messages may be inconsistent or lose meaning across the various media options for your target audience.
It is a brave new digital world with rapidly changing technologies, social media platforms, and new apps entering the market at lightning speed. Buyers no longer research products and services through a single channel or follow a defined path through the sales funnel. The internet and social media enable both b2c and b2b brands to reach consumers in new ways but, at the same time, add complexity to the traditional marketing mix. As brand strategy consultants with b2b marketing expertise, we agree an integrated approach should be the foundation of any marketing strategy.
A sound integrated marketing plan takes clear focus and considerable effort. But without direction, even the best marketers can quickly find themselves putting money into a campaign that has little impact and delivers low ROI. To ensure you achieve the most from your integrated marketing strategy, here are some best practices to build your brand's next campaign more effectively.
Align traditional and digital strategies toward the same goal
The most effective marketing strategy for your brand isn't choosing between traditional or digital-only tactics; it's finding the right balance; crafting the perfect integrated brand message for your target audience and giving each customer exactly what they want. If you want to be like world-class brands and successfully craft an integrated strategy of conventional and digital, consider these key factors:
Understand the customer journey. Regardless of the path they take or the questions they ask, customers want to feel as if their path and the content they receive is custom-designed for them. Use the proper targeting and messaging tactics to personalize your marketing messages. Consumers visit websites and social platforms with different requirements; target them with personalized content using behavioral data (e.g., keywords they search for, whether or not they've visited your website, and their buying history).
Integrating online and offline touchpoints enables you to deliver personalized content to more consumers on more channels, giving consumers the answers they are seeking and helping them move them along the customer journey.
Use the appropriate channels. Customers ask different questions because they're looking for different information, and they use different channels to find their answers — channels and answers that hopefully lead them to your brand. Take actions that bring you closer to achieving your marketing goals.
Lincoln Financial: An integrated marketing success story
Lincoln Financial Group, a historically, sales-based organization, made a complete, 180-degree turn over the course of just one year. In 2012, the over century old financial services, insurance, and annuities business rolled out an innovative marketing campaign that quickly transformed it into a major marketing player.
The company's CMO, Jamie DePeau, joined the team from TIAA-CREF and brought a strategic marketing focus with her; DePeau introduced an integrated marketing mindset to PR, advertising, and social media.
After conducting research that revealed the more control we have over certain aspects of our lives, including our finances, the better we feel about our life's direction, Lincoln developed a "Chief Life Officer" campaign that aimed to empower consumers by appealing to their optimism and ability to take charge of their lives. Previously, Lincoln, which offers its products through intermediaries (e.g., employers, advisers, and agents), had targeted the middlemen instead of the end user–the consumer.

The campaign launched promoting everyone to CEO of his or her own life, a position they referred to as the "Chief Life Officer." The primary message was "you're the boss of your life, and Lincoln Financial is here to help you take charge."
To Lincoln Financial's surprise, consumers, especially women, were more optimistic about their ability to influence their future than they expected. In fact, the MOOD of America Survey found revealed about 75% of women said they were optimistic about their future compared to 66% of men. Based upon these results, Lincoln created an integrated campaign of PR, advertising, social media, as well as educational content, all geared towards Lincoln Financial and women.

The campaign integrated public relations, social media, and advertising, featuring a video showing how women of all ages take charge of their lives. It also provided educational content to help women do just that. The PR was driven from the research results and the Chief Life Officer ads carried on the "take charge, optimistic theme," which was restated through social media.

After only four months, brand awareness increased significant and, among consumers aware of the campaign, all key attributes that influence consideration and purchase behavior increased by double digits.
The fundamental basis of an integrated marketing strategy is the formation of a unified and consistent brand identity and positioning. It ensures that tactics are all working together toward a common goal and telling the same brand story. As experienced by Lincoln Financial, consistent messaging across all touchpoints ultimately builds brand awareness and trust, differentiates a brand from its competitors, and makes it top of mind when it comes time to purchase.