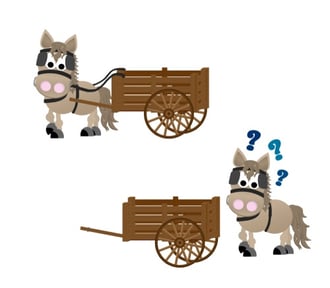 Recent CMO Survey results indicate that the top use of social media by companies is for brand awareness and brand building. Building a successful social media strategy starts with gaining a better understanding of overall branding. Having a strong foundation in branding will point your social media activities in the right direction for the business.
Social media actions and plans can exist on their own, but social sharing is not an end in itself. Vanity metrics—followers and likes—may be early indicators of good content, but without an understanding of the broader marketing and business strategy behind them, your efforts could be futile. The real test of social media is business impact that leads to the bottom line. In other words, you could be putting the social media cart before the brand strategy horse.
Here are some tips from our experienced brand consultant team to help you increase your brand knowledge and understand how social media fits into the bigger picture of brand and marketing.
Establish why the business exists
What your brand stands for­—the vision and mission—matter to today's consumers. What does the organization behind the product or service stand for, and what are its future goals? It could be a focus on the solution to a significant problem or supporting a meaningful cause, the community, or the environment.
Define how success is measured
Every marketing activity, including social media, must help support business goals such as sales, average spend, market share, leads, awareness, customer satisfaction, retention, or referrals. For this, brand building must start with specific, clearly defined SMART goals and objectives:
Specific (e.g., XX percent or $XX)
Measurable
Achievable
Relevant (e.g., support vision/mission)
Timely (e.g., X months or X years)
Understand what is happening in the industry
Are the industry and category growing or declining? What innovations and trends are critical? Are there gaps in the offerings? What do consumers care about most? What are their pain points, threats, opportunities, and unmet needs? Clearly communicate how your brand meets those needs.
Verify your target market
Be exact on the overall market and ensure you have the right audience. Don't just include everyone who could potentially use your product or service. Narrowly define those most likely to have the unmet needs you provide and focus resources on the segment with the greatest ROI potential. Be specific with who will benefit the most from your solution:
Demographic (gender, age, income, education)
Psychographic (attitudes, values, lifestyle)
Behavioral (purchases, brand loyalty, product usage)
Identify competitors that also target the market
Consumers evaluate brands against key competitors. Identify several top competitors based on market share and sales. What do you offer that is different? Why should they pick you? With this understanding recap the main distinctions and points of differentiation of your brand.
Confirm your branding strategy—the essence of what the brand means to your target audience
Once you have an overall brand understanding, use the knowledge and apply it to social media presence and actions. Find where your target market is active in social media—social networks, messaging apps, blogs/forums, podcasts, etc. Find ways to leverage crowdsourcing, influencer marketing, social care, user-generated content, and paid social media. Identify the top social platforms for your target and compare them to the organization's current social media accounts. Are adjustments needed based on the target market?
Different business objectives and target markets may require different social media messages and platforms. Existing accounts may be wrong for current business objectives, and new social media platforms may be ideal, but were never considered. A social media audit may be needed to:
Confirm you're talking about the right things based on your products and services, industry and competitors, and business objectives.
Ensure you're telling the complete brand story; don't overlook parts of the mission and vision that could drive consumer action.
Ensure all social media efforts are integrated and consistent with brand identity—messaging, tone of voice, and look—and other forms of digital and traditional marketing communication.
Take the time to think about whether your brand is being represented the way you want it to on social media. Prioritizing social media branding will help you connect with your target audience, be more strategic with your efforts and achieve better results.