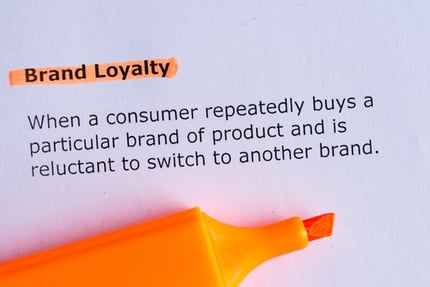 Customer expectations are rising rapidly; today's abundance of consumer options and avenues enables buyers to shop effortlessly based on price, quality, speed, and overall customer experience.
Consumers are continually bombarded with marketing messages on every device they use. This advertising overload has made it increasingly difficult for brands to stand out in a sea of competitors with similar offerings.
If somehow you manage to rise above the noise and reach a potential buyer, you then face the challenge of building brand loyalty. However, with the right brand marketing strategies, you can stand out and keep your customers coming back for more.
Simply put, the more consumers resonate with your brand, the more likely they are to purchase from you again. Creating a loyal following of customers can ensure success and help drive sales of your company's products and services forward.
Four Strategies to Drive Brand Loyalty
1) Create personalized customer experiences
Delivering personalized content and experiences is an effective way of making every customer feel special—and it's a great competitive differentiator too.
According to Virtual Incentives, brands with personalized customer experiences are perceived as smart, unique, and caring by the majority of consumers. Additionally, over half of Millennial customers rank personalization as a high priority, which is why increasingly brands are focusing on delivering it.
How can you utilize personalization to promote brand loyalty? Technology is a valuable tool to help improve your brand's relationship with customers:
Marketing automation creates personalized customer journeysand ties customer specifics into the content you deliver to them. For example, most email marketing platforms have personalization tags you can add to the subject line and email body. These personal touches increase open rates and also result in 6 times more sales.
Personalized offers(e.g., "You may also like…" and "People also bought…") present customized suggestions based on the customer's history. This leverages peer recommendations to encourage repeat purchases.
Designing a more customized buyer experience enables you to earn customers' trust and respect over time.
2) Establish customer loyalty programs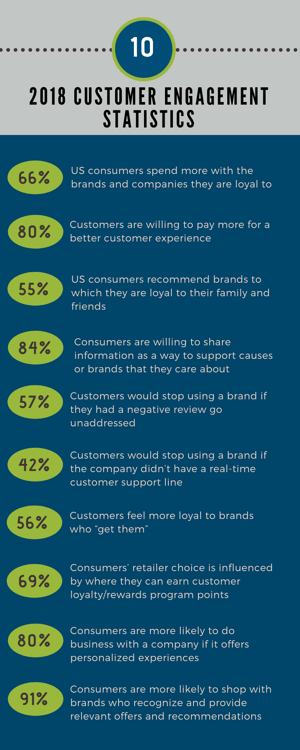 Perks received through loyalty programs can make loyal customers feel like VIPs, giving them another reason to shop with you over a competitor. Delighting customers by going the extra mile shows them your gratitude.
How can you reward your best customers?
Offer exclusive perks that encourage brand loyalty (e.g., free shipping and monthly deals). Fifty-six percent of consumers in the Virtual Incentives study said that "receiving a personalized incentive would improve their consideration of the brand."
Include extras and "freebies." Sephora's loyalty program offers free samples with every online order, plus "Beauty Insider" reward points. The program has accelerated the cosmetic giant's growth, making it a household name and an obvious choice for consumers.
Creating a mutual relationship of appreciation between your company and your most reliable customers means they'll reward you with brand loyalty.
3) Communicate with your customers
With a dedicated customer feedback program, you can better serve your market. From customer satisfaction to Net Promoter Score, ongoing customer communications help you identify process, product, and service gaps, follow up with dissatisfied customers and cultivate brand advocates among the most satisfied.
This rich data can inform future decisions and advance the entire organization's understanding of your target audience. However, it's not just about traditional customer support satisfaction:
Brand surveys provide marketing teams with competitive insight from prospects
Development teams can gain valuable feedback from product surveys to beta users
In short: communicate, and communicate often.
4) Robust customer support
Last but not certainly not least, enhance your customer support resources to help your customers thrive.
Each year, U.S. companies lose billions of dollars due to poor customer service and support. Combine this with the fact that 68% of customers have switched brands due to poor customer service, and the significance of robust customer support is clear.
Omnichannel customer support is the blueprint for customer satisfaction and success. It takes multi-channel support a step further by focusing on customer support from the customer perspective; omnichannel is all about a cohesive customer experience. If you call into support, tomorrow's email shouldn't restart the conversation, but continue it.
Self-service is another huge factor. Empowering customers to solve issues themselves means you are developing proactive measures that streamline support processes and ultimately save time and money.
The Bottom Line
Today's consumers may be less loyal than yesterday's, but there are plenty of modern ways to combat churn and drive retention and loyalty.
The advice here culminates into one central message: customer care matters most. If you show them that they're valued, your customers are more likely to reward you with their loyalty. It's a simple concept, if you're focused on metrics rather than people, it's easy to lose site.
As more brands begin prioritizing customer experience above customer acquisition, we should see a widespread resurgence of brand loyalty among consumers.
Understand your customer's journey to prepare better for the peaks and valleys that affect buying decisions.