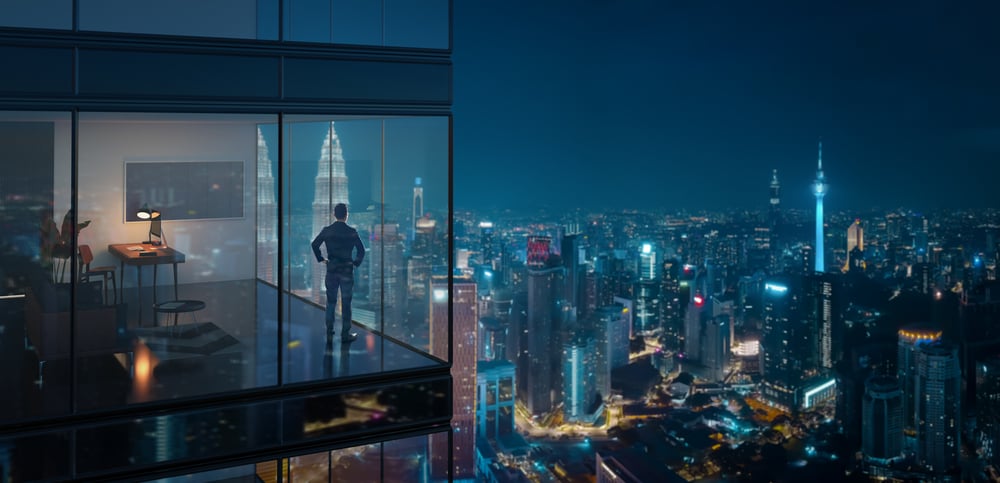 The technology industry is overflowing with well-known brands, but few have earned the same level of respect and admiration as IBM, Intel, and Cisco. All three of these companies are part of the elite group of businesses that have earned the title of "most valuable B2B brands" and have been at the top of this list for many years. As such, it is important to understand their current positioning and how it has evolved.
Intel: "Do something wonderful."
Intel has long been a leader in the technology industry, renowned for its incredible processors. Over time, the company has shifted its positioning from purely a hardware provider to one that provides an entire range of innovative solutions.
The company has undergone several evolutions of its brand positioning in recent years. Initially, their tagline was "Intel Inside." This was primarily focused on the internal components of their products and emphasized the quality and reliability of their chips and hardware.
Intel's focus has shifted to the user experience. Their brand positioning includes "Experience Amazing," which emphasizes Intel's commitment to providing a robust, reliable, and enjoyable computing experience.
Intel's most recent and successful brand positioning proposes to audiences, "Do something wonderful." This focuses on the idea that Intel's products are meant to empower users to do amazing things and break boundaries. It emphasizes the power of Intel's technology to help people achieve their goals and dreams. This positioning has resonated well with Intel's target demographic and has successfully increased brand loyalty.
IBM: "Let's create something that will change everything."
IBM has been around since the dawn of the computing age and has been a leader in developing new technologies. IBM's brand positioning has gone through several shifts over the years. From "Think" and "Solutions for a Small Planet" to "e-business on demand" and "Smarter Planet," the company has adapted to the changing needs of its customers and the world around it.
Today, IBM's brand positioning around the slogan "Let's create something that will change everything" reflects the company's commitment to using technology to improve the world. The idea behind the tagline is that technology can help solve global problems plaguing us for decades, from climate change to global poverty. IBM's brand positioning also emphasizes the importance of collaboration, as working together is the only way to create real, lasting change.
In practice, IBM's brand positioning is about using technology to empower people to tackle the world's most pressing challenges. This means using data and analytics to make smarter decisions, leveraging the power of the cloud to innovate, and creating solutions that can help solve real-world problems. Ultimately, IBM is about creating something that will make a genuine difference.
Cisco: "The bridge to possible."
Cisco is known for its reliable and secure networking infrastructure and products. However, the company has also been at the forefront of the digital transformation of businesses, positioning itself as a "bridge to possible." This tagline reflects the company's commitment to helping its customers embrace and use technology to their advantage.
Cisco's brand has evolved significantly over the past decades, from a smaller company focused on providing local and wide area networks to a global leader in IT infrastructure, software, security, and cloud services. Cisco's brand positioning has evolved to reflect this, emphasizing the company's commitment to innovation, its ability to bridge the gap between potential and reality, and its focus on creating a connected world.
Cisco's current brand positioning reflects the company's commitment to helping customers and partners realize their full potential and overcome the challenges of a rapidly changing digital landscape. This positioning emphasizes the role Cisco plays in enabling customers and partners to achieve their business goals and dreams and its ability to bridge the gap between potential and reality. In addition to this, the company is focused on creating an interconnected world where customers can access, create, and collaborate regardless of location or device. By embracing this philosophy, Cisco positions itself as the bridge between potential and reality, unlocking new possibilities for everyone.
The positioning of three of the most valuable B2B brands – IBM, Intel, and Cisco – has evolved. Not surprisingly, all three companies have embraced the world's digital transformation and positioned themselves as innovators and creators of positive change. Through their respective communication, they have called upon their customers to explore their products and services possibilities.
At FullSurge, our brand strategy consultants have decades of experience helping companies develop positioning strategies to capture the essence of their unique value proposition and resonate with customers. Contact us today to learn more about how we can help position your brand to unlock its true potential.