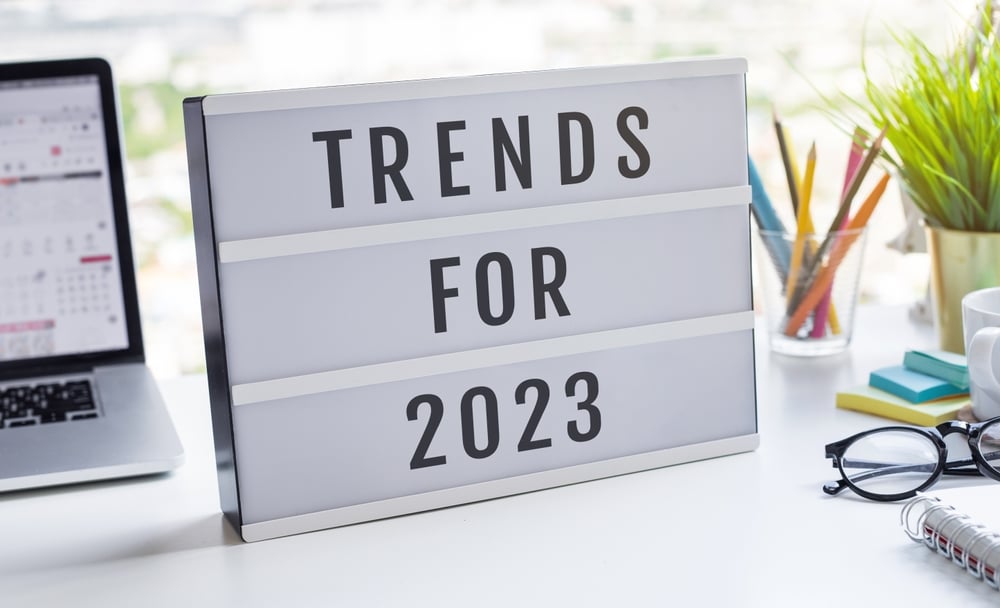 As we move through 2023, It's safe to say that this past year has brought massive disruption across nearly every industry in one way or another—but with any upheaval comes opportunity and innovation.

For brands, the coming year offers a chance to make meaningful connections with consumers, pivot around new customer behaviors and expectations, and build resilient foundations that can help them weather whatever comes their way.

This post will look at five important 2023 branding trends that marketers and brand professionals should keep an eye on.
1) Developing a Meaningful Metaverse Brand Strategy
As the pandemic accelerated our transition to a digital-first world, virtual worlds have become embedded into consumers' everyday lives. Brands will need to develop metaverse strategies that involve engaging in ways beyond just marketing messages – by participating in events within these platforms, creating content for them, or even building their own digital experiences.

Brands should strive to recognize these new platforms' potential and use them to showcase how they contribute to society. Ultimately, marketers should utilize these spaces as a forum for meaningful connections with customers on an experiential level.
2) Customer-Centric Hyper-Personalization
In 2023, brands will have to embrace hyper-personalization to stand out and meet customer expectations. This requires delivering distinct experiences tailored toward each customer while preserving the brand's integrity. With Artificial Intelligence (AI) and data analytics, marketers can gain insights into their customers' preferences and develop highly personalized campaigns accordingly. Companies recognizing and adopting putting customers first will be well-positioned for success in an increasingly competitive market.
3) Increased Focus on Data-Driven Storytelling
With the availability of measurable performance metrics, marketers can now quantify their impact and see what stories resonate with their target audience. Data-driven storytelling allows marketers to build a solid narrative framework backed by compelling evidence rather than relying solely on instinct and gut feeling.

Additionally, marketers now have the tools to identify customer needs more accurately, creating stories that deliver more personalized content to customer segments at all levels of interaction in a cost-effective manner. By leveraging real-time customer data, brands can create more engaging narratives tailored to their audiences and aligned with their overall brand strategy. This helps drive higher engagement and increases customer loyalty as well as ROI.
4) Sustainability as a Core Brand Value
The global shift in focus toward sustainability is driving increased consumer demand for brands that prioritize ethical and responsible practices. In 2023, sustainable practices will go beyond just materials sourcing and energy use – they will be embedded into the core of a brand's strategy, from its supply chain to production processes.

As marketers and brand and marketing professionals, we must not overlook the power of sustainability when crafting our brand vision. With sustainability embedded as a core value, marketers can create an authentic and accountable approach with customers while shaping a better, brighter future. By demonstrating an informed commitment to sustainability practices and production standards, brands can differentiate themselves in the market, set themselves apart from competitors, and foster long-term customer relationships.
5) Brand Purpose-Driven Experience
Brands need to go beyond just selling a product or service—they need to foster meaningful connections with their customers through experiences driven by a clear sense of purpose and values. This involves leveraging technology to create engaging experiences that educate and inspire customers while authentically connecting with them emotionally.
6) Preparing for Gen Z and Generation Alpha
As consumer power continues to increase, brands need to be mindful of emerging generational trends. The rise of Gen Z and Generation Alpha will bring about a new wave of highly informed and digitally savvy customers. Gen Zers are maturing into the workforce with increasing purchasing power.

Generation Alpha, born between 2010 and 2025, is unique in many ways. Born entirely within the 21st century, this young generation marks a new era with ever-increasing digital connections and technological advancements. As marketers and brand professionals, it's our job to understand each generation and adjust our strategies accordingly.

Understanding Generation Alpha requires careful analysis of the latest trends, such as their embrace of technology, the influence of social networking on their lives and buying behavior, and sharing insights into the desires, values, and needs that drive them.

By taking a deeper look into the emotions and motivations of customers and external stakeholders, marketers can create more meaningful experiences that better connect with their target audiences. With this insight, marketers can tailor their brand stories with purpose—driven messaging that resonates with short-term and longer-term objectives. Through creating unique and powerful experiences, marketers can inspire more robust branding initiatives that speak to their customers' hearts.

Staying ahead of the curve and embracing these key 2023 branding trends, brands can leverage this time of disruption into an opportunity for growth. Ultimately, brands that focus on customer-centricity, meaningful experiences, and building resilient foundations will be the ones who come out on top.

At FullSurge, our brand strategy consultants have decades of experience helping brands realize their full potential. Our team brings unparalleled knowledge from years in the industry to each project and works alongside our clients to create comprehensive strategies tailored to their needs and goals.

From uncovering opportunities and understanding market dynamics to staying ahead of trends and managing brand perception, we offer unsurpassed expertise and service—setting us apart from other consultancies.