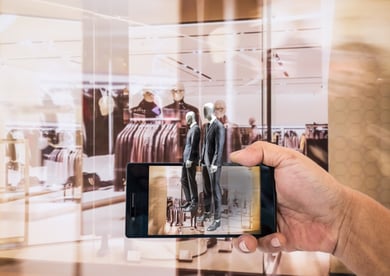 Back in the early days of brand management, there were fewer brands, competitors, and product or service offerings in most categories and industries. Not surprisingly, in a world with fewer alternatives, it was far easier for any single brand to position itself as distinctive from all others. Marketers and brand strategists simply conducted market research and determined how they wanted to be perceived in the minds of consumers. They then created 30-second ads and reached audiences on one of only three broadcast networks.
The role of consumers was simplistic as well—they bought and used the products that the manufacturers made. While they did "vote with their checkbooks," they had very little influence. Clearly, it was a simpler time —manufacturers produced, retailers sold, and consumers purchased. In this undeniably oversimplified value chain, manufacturers held all the cards.
Elimination of Barriers to Market Entry
The internet is undoubtedly one of the most influential innovations in recent history. Since its inception, marketing is no longer limited to billboards, television and print advertising, direct mail, or catalogs to reach global audiences. Today, virtually any brand, global or local, can reach customers and prospects around the world with minimal effort, essentially eliminating the barriers to market entry. Brands are launched and thrive almost instantaneously. Consider that three of the most influential and valuable brands in the world today—Amazon, Google, and Facebook—didn't even exist 25 years ago.
Rewriting the Rules of BrandStrategy (and Marketing in General)
Today's consumers are digital explorers. Social media, digital streaming media, and mobile networks and smart devices have ushered in a new era of real-time, highly personalized, multichannel communications. Online ratings, peer reviews, videos, and in-depth product details are invaluable as customers and prospects move along the path to purchase.
The Proliferation of Mobile
In 2015, mobile searches surpassed desktop searches, significantly shifting the way businesses engage consumers. The proliferation of mobile devices as the go-to tool for search and buying has uncovered innumerable opportunities for brands to interact with consumers that never existed before. In our new reality, apps like Snapchat, WeChat, and WhatsApp confirm that everything happens in real time. From awareness to purchase, marketers need to keep up with the dizzying pace of consumers. The points of engagement and transaction are converging; brands that can offer immediacy, personalization, authenticity, and accessibility will ultimately win.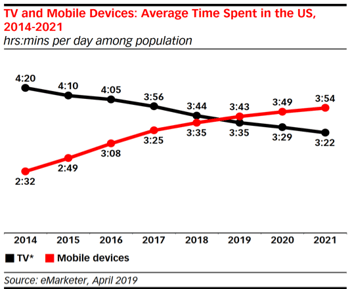 Now in 2019, eMarketer forecasts that a new frontier will be reached—US adults will spend more time each day on their mobile devices than watching TV.
The average US adult will spend 3 hours and 35 minutes watching TV each day, but mobile use will inch 8 minutes higher (to 3 hours and 43 minutes) to take the lead.
Technology has changed everything, and two ongoing debates persist:
Is digital marketing replacing traditional marketing or merely supplementing its reach?
Is there a balance to strike between the two?
Marketers are familiar with traditional marketing methods; they're easy to understand, and we've used them for decades. Traditional marketing is based on an in-your-face "interruption" strategy—brands bring their message to consumers via television commercials, printed billboards, and print advertisements.
Digital marketing, on the other hand, is relatively new and based on an inbound strategy. Companies publish their product and service information via corporate websites, blog posts and articles, pay-per-click ads, and posts on social media platforms for potential customers to find, all of which offer an opportunity for more targeted advertising.
The application of digital technology to the world of marketing activation introduced an entirely new set of channels, touchpoints, and experiences for brands. Additionally, customers do not delineate between physical and digital touchpoints; to customers, the brand experience is fluid. The medium through which the brand delivers the experience is irrelevant as our managing partner, Mitch Duckler, exemplifies in his book, "The Indispensable Brand."