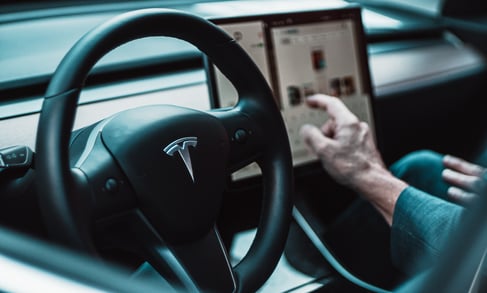 Founder and CEO Elon Musk launched electric vehicle brand, Tesla, with the mission, "to accelerate the advent of sustainable transport by bringing compelling mass market electric cars to market as soon as possible."
In 2017, Consumer Reports found that Tesla had the highest rate of customer satisfaction of all car brands. That same year, BrandZ ranked Tesla the #1 brand for innovation. The report describes the very successful business model, consistent with its mission, that built an enthusiastic, cult-like fan base that helped the brand grow:
Tesla is a premium electric-only car brand that creates meaningful difference by merely being meaningful and different

It invented an entirely new, direct-to-consumer sales model to produce products that fulfill its customers' desire for more environmentally conscious vehicles

Tesla equips its cars with different driving modes and can update their firmware, similar to upgrading the OS on a mobile phone
Tesla Drivers are Brand Believers
According to research conducted by Experian, Tesla's high levels of customer satisfaction are also translating into exceptionally high rates of customer loyalty. Tesla doesn't advertise—it doesn't need to. Its advocate buyers are the best salespeople. Many of the brand's loyal fans not only want to own a Tesla, but they also want to be part of Elon Musk's big dream to change the world. Even powerful brands like Apple don't inspire this level of loyalty, something that demonstrates Tesla's incredible brand power.
An Automotive Paradox
In the recent 2020 J.D. Power Initial Quality Survey, which assesses problems new owners experience within the first 90 days of ownership, Tesla scored poorly. The survey evaluates problems per 100 new vehicles. While the industry average is 166 problems per 100 vehicles, Tesla had 250 problems per 100 vehicles.
Conversely, Tesla ranked highest on J.D Power's 2020 APEAL Study (Automotive Performance, Execution, and Layout) with an impressive score of 896; the industry average is 861. The study assesses how an owner emotionally connects with the new car by measuring ownership "excitement" across 37 areas among 87,000 owner respondents.
Data show that many people prioritize experiential benefits, allowing them to override perceived quality flaws. A 2008 Journal of Business Research study focused on the relationship between brand quality and brand image. The study considered what occurs when quality and image are lop-sided. In other words, how can a brand with debatable quality have a genuinely good, compelling image? The study confirmed that a marginal brand image is much more damaging than low brand quality. If the purchaser's motivations are self-indulgence, low quality is a less critical driver. In other words, a strong brand image can overcome negative quality issues. The study revealed that, for cars, "strides in quality are not as powerful as efforts aimed to enhance brand image."
Tesla customers are emotionally and experientially invested in the brand, so they overlook the quality issues. This doesn't mean that Tesla should ignore the problems owners of its vehicles initially experience. However, it does demonstrate that although Tesla brand advocates experience problematic quality, they still have a strong emotional attachment to the brand. They likely don't perceive the brand's quality issues as troublesome enough to delay a purchase.
At FullSurge, we help build brands the world can't live without. The focus of our brand strategy consultants is building indispensable brands as the basis for long-term profitable business growth. Contact us to let us help you make your brand indispensable.