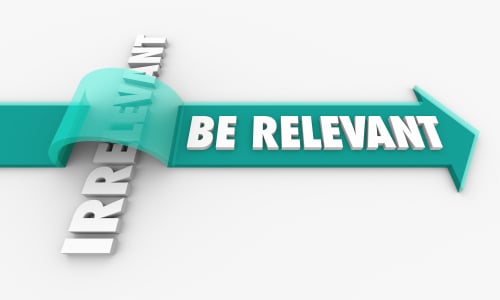 A brand extension, simply put, is when a brand moves into a new product category while still competing in its original category. Brand extensions can benefit the parent brand in several ways, including:
Establishing a brand's position in new categories
Creating greater customer loyalty
Reiterating the brand promise and consumer perceptions of the brand
Maintaining the parent brand's relevance in its existing category
In our previous two posts, The Important Role of Demand in Successful Brand Extension and Your Solution's Vital Role in Successful Brand Extension, we described, in detail, two of the three critical factors for successful brand extension—market demand and your product/service solution. In this final of our three-part series diving into brand extendibility success factors, we'll take a close look at the third factor—brand relevance.
What is brand relevance?
Conventional marketing wisdom maintains that 'fit'—the perceived similarity and relevance between the extension category and its parent brand–has the most significant influence on consumers' evaluation of a brand extension. The idea is that by extending into compatible categories, the success of one product feeds the success of the other and the brand as a whole reaps the benefit.
Brand relevance is the extent to which a new product or service idea fits the brand's existing positioning. Even when there is a significant need, and the solution is perfect, every extension depends on whether the solution in question makes sense for the brand behind it. When the fit is not sound, a new offering can dilute valuable brand equity. In some cases, bad extensions can destroy that equity altogether.
The key to a successful brand extension is entering into a market where your brand can bring relevant added value. Brand awareness alone isn't enough; the brand needs to 'bring something relevant to the table' that competitors don't currently offer—you can't stretch the bounds of relevance when it comes to your brand. Remember Life Savers, the famous candy brand that created a beverage in the 1980s that performed well in taste tests. However, when Life Savers Soda was launched, it flopped in retail stores. "Consumers thought (the brightly-colored beverage) would taste too much like drinking candy." You'd purchase a cappuccino machine from Starbucks, but you probably wouldn't purchase mouthwash!
Should a dating app be offering skin care advice?
Bumble, the popular dating app (alternative to Tinder), is trying to venture into the 'physical' world by breaking into the beauty business. Bumble's team worked with psychotherapists and dermatologists to develop products that simultaneously solve skin and emotional issues after the dating app ventured into connecting platonic female friends with Bumble BFF. They've also started connecting women in professional networks via Bumble Biz, as well as launching an investment arm for female-founded businesses via Bumble Fund. For Bumble, beauty seems a natural brand extension, whose ideology has always been about championing and celebrating women.
Is your company ready to extend its reach?
If you think your brand is ready to take the plunge into a new market, make sure you are mindful of your customers' needs and attitudes. Is your new product going to fill a problem they have? If yes, does the product make logical sense and fit within your public brand perception?
While brand extension can undoubtedly be an involved process and a difficult decision to make, done right, the results enable brands to create and dominate new subcategories—but it is no simple feat. If you need help extending your brand, our brand consultant partners have the knowledge and expertise to help your organization successfully reach with confidence.