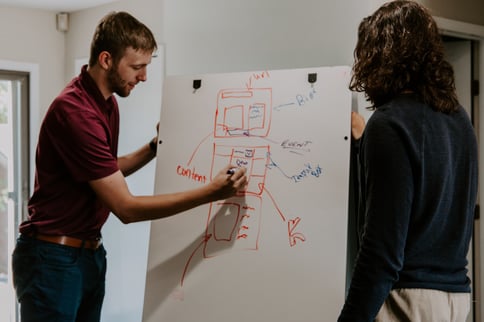 Even before the COVID-19 pandemic turned our world upside down, it was safe to say that for many businesses, today's path to purchase is as much digital as it is physical. However, as self-quarantine, social distancing, and community spread heightened, new habits and behaviors began forming and consumers' purchasing decisions are changing even more.
Physical and digital touchpoints have become increasingly intertwined in the customer experience. Consider customers who walk through the aisles of a brick-and-mortar store, read the retailer's point-of-sale material, and simultaneously compare prices and check reviews on their mobile phones.
Furthermore, the lines between analog and digital activation are beginning to blur in several important ways. Customers do not delineate between physical and digital touchpoints the way marketers do. To customers, the brand experience is fluid—and the medium through which the brand delivers the experience is irrelevant.
Using Band Positioning to Guide Digital Activation
Digital activation may be the single greatest, most positive change since the dawn of brands. Properly executed, digital activation helps marketers avoid depreciating valuable brand equity. However, there are obstacles regarding its use that marketers must overcome.
First, given the inherent breadth and reach of digital, it's easy for a brand's message to become diluted and fragmented across different channels over long periods of time. While the same can be true in the analog world, the pervasiveness, reach, and potentially viral nature of digital touchpoints exacerbates this happening.
However, perhaps the most serious challenge to digital activation is it typically lacks the strategic foundation and brand alignment that are critical for both short-term and long-term success. Not surprisingly, spending so much time and effort on selection of optimal digital channels and creative execution—without equal consideration of the underlying brand strategy—can have dire consequences. Market research backs up this claim. According to a 2016 study from the brandgym, 91% of marketing directors agree that "the key to effective digital marketing is clear brand positioning." That's the good news. However, the survey also revealed that 62% of marketing directors feel that "with the focus on digital/social marketing, brand strategy gets overlooked."
Forging a New Digital Path
As with any meaningful, transformational change, forging a new digital path begins with a shift in mindset. For marketers to begin to think more strategically about the alignment of digital activation and brand strategy, they must understand the role of digital in the broader marketing mix. This required shift in mindset consists of three components.
Strategy Before Tactics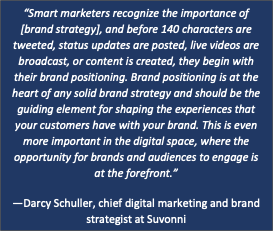 Digital activation, like anything else pertaining to brand activation, begins with sound strategy. More specifically, it starts with brand positioning. Digital activation should not only be consistent with positioning but inspired by it. While using brand strategyto guide digital activation seems like a principle any brand marketer would embrace and follow, it is surprising how often this is not the case—even with marketers who are very strategic with other components of the marketing mix. And even when they are strategic in their approach to digital, it tends to be more from a broader business perspective, as opposed to brand strategy.
Leverage Brand Positioning as the Primary Unifier
Another required mindset shift lies in the need to embrace a more holistic, unified approach to digital activation. The inherently disparate nature of digital marketing—from websites and apps to social media and video—makes it easy for brands to experience dilution and fragmentation. To rise above, marketers must think beyond the channel.
Here again, brand positioning can serve as the guide that unifies strategic planning, messaging, and tone that might be otherwise disjointed (if not outright contradictory). As with any other component of the marketing mix, brand positioning should serve as a screen for digital activity. When a tactic or message is not consistent with the positioning, that component should be immediately rejected, or at a minimum, reconsidered.
Invest in Building Long-Term Equity
Perhaps the most important mindset shift pertains to marketers' expectations of what digital can and should accomplish, both in near-term and long-term. The immediacy and instant gratification that typically characterizes the digital world, along with the ease and accuracy of online measurement, can prompt marketers to regard digital activations solely as transaction drivers. However, it's also important to think about long-term brand equity creation in digital activation. Digital isn't about next week: it's about how consumers perceive the brand's presence in the long run, both in the online world and outside it.
Much of the potential of digital as a long-term equity builder lies in its inherent ability to forge deeper, more meaningful relationships with consumers. By going deeper through the lens of brand positioning, brands can take those relationships a step further.
Great digital strategies turn short-term opportunities into the building blocks of bigger relationships. Transactions are important, but when those transactions feel consistent with the brand positioning, the brand becomes more distinct in the eyes of the consumer. The greater the distinction, the more likely that consumer will choose to engage with the same brand at the next opportunity.
Our brand strategy consultants have extensive knowledge and experience building valuable brand equity by helping clients align digital activation with sound brand strategy. Contact us to learn more.