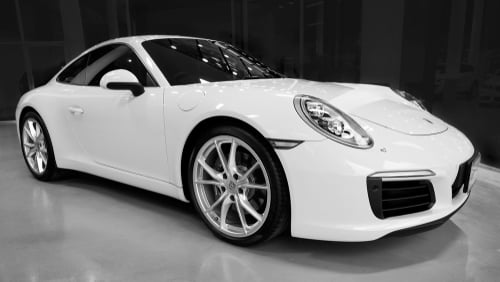 Last week Volvo announced it will limit the top speed on all its new cars to 112 mph starting in 2020–the same year the Swedish automaker aims for zero people killed or seriously injured in any of its models going forward. The change will be implemented globally, starting in the second quarter of next year, on vehicles planned for the 2021 model year. Volvo is taking the bold step because it has identified speed as a conspicuous gap it needs to close to reach its safety target.
No speed limiting for Porsche
A few days after Volvo's announcement, Porsche declared, "it will never limit the top speed of its vehicles, let alone follow Volvo's lead—ever." While Volvo cited safety concerns, Porsche responded that they had started work on a $100 million crash-safety research center for customers and, additionally, have access to all the Volkswagen Group's crash-safety research and technology.
Porsche is the world's most profitable car company despite not really changing the way it looks in 50 years. Looking at older Porsche's they looked like VW Beetles dressed up wearing a sexy dress and lipstick.
Although Porsche shares a category in the luxury automobile sector with a broad range of brands (e.g., Mercedes Benz, BMW, Ferrari, Lamborghini, and Aston Martin), it has been able to carve out a niche in the car segment that many others have failed to do, one that Porsche refers to as the "Sports Luxury" segment.
Porsche. No substitute
The category differentiates itself from premium as well as super-
luxury brands because all Porsches are sports cars, regardless of format, and are designed with the purpose of being used every day. Marketing themselves in this way enable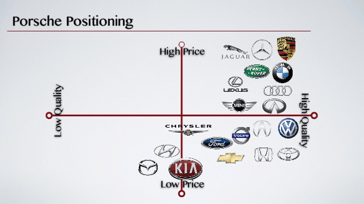 s Porsche to operate in a segment that is more luxurious than the likes of BMW and Mercedes Benz. And, Porsche is also sportier than these brands. The intent of being able to be used every day means it is regarded as the most reliable sports car in the world. Literally, one could drive it to work every day and thrash it around the countryside on weekends.
Rather than dilute the sports car brand, Porsche's entry into the sport luxury SUV segment has been a tremendous financial success and now it produces more SUV's than sports cars—the world's most iconic sports car manufacturer sells more SUV's than sports cars now!
Porsche marketed their SUV into the sports luxury segment as well, which meant it was still selling to the same target market as always. Consumers not able to buy a Porsche 911 due to its functional limitations could now experience the brand in a vehicle more practical for families and commuting, something our brand strategy consultants consider a brilliant shift.
Realizing that the success of its brand still relies on the perception and desirability of its sports car business, Porsche used the profits made from their SUV success to improve the performance and standard of its sports cars. This is vital to brand's success as it continues to focus on its core sports car business. The perception of the Porsche brand and the emotions it elicits transcend the body of today's 911, but it is still rightfully linked to the iconic 911
Porsche made the decision to stay away from the voluntary speed-limiting of its cars when the rest of the German industry did because it gave the sports car maker a unique brand positioning and a huge point of differentiation from its compatriots. "Porsche was always so special and that's a brand differentiation we have, and if we are put under pressure, then I can live with pressure," stated Porsche chief Oliver Blume.
The effects of the successful differentiation and positioning of the brand allows Porsche to own a segment within the automobile sector that no other car brand has been able to emulate successfully. This makes Porsche the most profitable car company in the world and affords it the ability to maintain its position at the forefront of building reliable and desirable sports luxury vehicles.