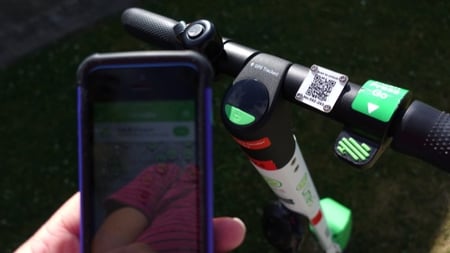 Ride-hailing business, Uber recently announced a deal with San Francisco-based scooter-rental company, Lime. Lime enables people to hire scooters, electric bikes, and pedal cycles in 46 cities. The agreement means Uber users will be able to rent Lime's scooters via the car-sharing company's app.
The Lime partnership indicates that Uber could be setting its sights much higher. Integrating the scooter option directly into its app means users have one less reason to switch to a competitor. Instantaneously, the Uber app is more than just about calling for a cab; it's about finding whatever transportation option is best for you—ultimately, Uber's end goal.
Uber's ambitions are likely driven by the company's success in categories adjacent to just ridesharing. According to Uber CEO, Dara Khosrowshahi, the company's food delivery service UberEats has achieved a $6 billion run rate and is growing by over 200 percent. Khosrowshahi also envisioned a future in which Uber is the platform that other transportation services like public transit, bikes, and buses run on.
"Let's create a cheaper form of transportation from A to B, and for you to come to Uber, and Uber not just being about cars, and Uber not being about what the best solution for us is, but really being about the best solution. Just like Amazon sells third-party goods, we are going to also offer third-party transportation services. So we wanna kinda be the Amazon for transportation." —Dara Khosrowshahi, CEO, Uber
Uber's endeavor to be the "Amazon for transportation" continuously brings riders back to the app by owning that consumer interaction and relationship. Several months ago, Uber rolled out a new option for getting around: renting dockless electric bikes provided by JUMP using the Uber app. Uber Bike is currently available in San Francisco, Sacramento, Santa Cruz, Washington DC, Chicago, and Austin.
Push the Limits of Brand Growth
Don't be afraid to extend your brand into new markets and industries; it's the only way to achieve meaningful and sustained growth. Instead, ascertain bold steps—without contradicting or otherwise jeopardizing the brand's positioning—and take the plunge.
Adopting a "me too" growth strategy by following the crowd never produces extraordinary results. Brands should reject passing fads and flavor-of-the-month line extensions. Instead, they should pursue long-term, transformational brand-inspired growth.
Evaluate Potential New Opportunities
At a time when customers see brands as interchangeable and lacking differentiation, our brand strategy consulting firm routinely advises clients to evaluate potential new opportunities through three lenses.
Determine the Brand's Boundaries of Extension
A good brand strategy provides direction for decision-making across the entire organization. Uber's approach makes sense and feels genuine; it stays true to the brand's positioning. They have become a brand known for disruptive innovation by offering people a transportation service that is far more convenient and customer-focused than the traditional taxi industry and, being first to market it has been a very successful positioning for them.
Push the brand to Where New opportunities Might Lie
Uber's "changing how people can request rides and get from point A to point B is just the beginning" mantra started as a simple idea: request a ride from your phone. Now, more than 5 billion trips later, they're working to make transportation safer and more accessible, helping people order food quickly and affordably, removing barriers to healthcare, creating new freight-booking solutions, and providing opportunities for people to work on their own terms.
Remain Consistent with the Brand's Positioning
Continually ask not only whether these steps are consistent with the brand positioning, but also whether they further differentiate your brand from its competitive set. Uber does have a diverse suite of successful products and services, including the core rideshare program, an Uber Visa card, UberEats, and now, Lime.
All that said, Uber's archrival Lyft announced it was buying Motivate International — a bike-sharing company that gives Lyft access to thousands of bicycles for short-term rental and a potential leg-up on larger rival Uber. Lyft is doubling down on shared rides and is also introducing a feature that allows riders to choose a means to their destination that may include multiple modes of transportation, including walking and public transit.
With the two rivals clamoring to give riders options for short trips within cities, who is best-positioned to win in the never-ending quest to dominate ride-sharing remains to be seen.