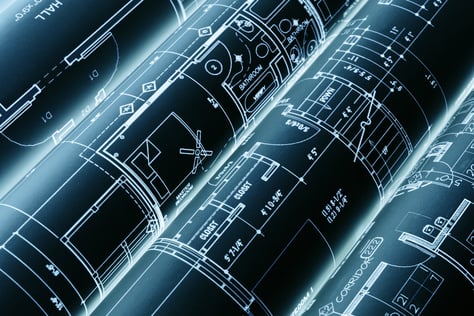 What is Brand Architecture?
Brand architecture may not sound like the most exciting part of your corporate identity, but it is a vital part of every successful organization. It is a central component of any brand portfolio strategy. Just like the blueprints for your house, your brand architecture is the map that organizes your products and services. The structure you choose for your business will guide (or hinder) its growth. By establishing a clear brand architecture, you can avoid too narrow of a branding focus, misbranding, or having an overlap in products or services.
Brand architecture articulates the explicit, market-facing relationships that brands within a portfolio have with one another. Simple, clear brand architecture should feature a logical organizing principle and as few levels of hierarchy as possible.
Great architectures follow a rigorous set of standards and guidelines that ensure a consistent expression and execution in the marketplace. This includes, but is not limited to, the visual identity and verbal expression of brands, as well as the naming conventions for product and service offerings. Establishing a clear brand architecture makes it easy for stakeholders to view it quickly, understand it immediately, and know which offer works best for them.
Brand Architecture Benefits
Brand architecture isn't just for giant multinational corporations. Even small brands can enjoy measurable performance improvements by better organizing their offerings. Regardless of your company's size, effective brand architecture can enable you to:
1) Clarify brand positioning, naming strategy, and messaging
Nothing increases the effectiveness of your brand positioning, like clarity. Clearly articulating the names of your sub-brands, and the messaging to your customers sets the stage to add product or service sub-brands as your brand grows.
2) Enhance brand awareness while facilitating cross-selling of your offerings
When divisions or sub-brands are clearly delineated, customers can understand their unique value propositions. Additionally, a customer of one sub-brand is more easily shifted to a customer of another sub-brand than a customer with no history.
Finally, when brands and sub-brands are architected in a logical, intuitive way, your marketing efforts are exponentially more efficient. With opportunities for cross-promotion between sub-brands, marketing is more effective as well.
3) Increase flexibility for future product and service offerings
By establishing a clear and intuitive brand architecture, you set the stage to add products or services as your brand grows easily. Your brand is primed for the addition of new sub-brands.
4) Increase stakeholder confidence in the strategic direction of your brand
A brand with a well-defined brand architecture is primed for future growth. And future-minded brands are reassuring for both investors and employees.
5) Ensure clarity and synergy between companies, divisions, products, and services
Even the smallest brand is a complex entity. Not until the various components that make up that entity are clearly defined and understood, can they work together, efficiently and effectively, toward a common goal.
The structure in which you choose for your business will guide its growth (or hinder it). With the right brand architecture in place, you can define the ways that different products and services link back to your overall brand identity. By establishing a brand architecture strategy early on, you'll be able to avoid a narrow branding focus, misbranding, or having an overlap in products or services.
Building a solid brand architecture isn't easy, but our brand strategy consultants have extensive experience helping clients organize their brands to better align with their target audiences. Ultimately, it's about examining the nuances of your brand and deciding how to leverage each of its divisions to best benefit the whole. Remember, your goal is to create clarity from chaos and sharpen your ongoing branding efforts.