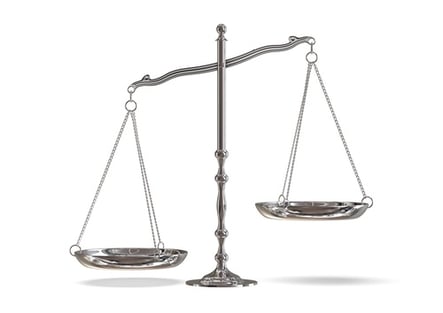 By: Michael Million
As most companies grow beyond a certain point, the two ends of this well-known brand architecture model becomes decreasingly relevant. The terms "branded house" and "house of brands" were aptly coined back in 2000 by David Aaker in his book Brand Leadership. It did a wonderful job explaining a "brand relationship spectrum" for how offers in a portfolio might be related to their corporate parent, and is still used today by many a marketer in search of the right approach for their organizations.
The reality for many companies, especially non-CPG-type organizations where marketing is not considered a "front-and-center" function, is that brand architecture is generally an after-thought at best. Often, brand architecture never enters into the discussion at key times, such as when the company is acquiring other companies, introducing new products, or expanding into new markets. All too often, "brand" is hardly considered at all, often leading to sub-optimal performance in new market spaces where a particular brand either lacks the credibility to stretch, or to many brands are thrust upon a customer segment resulting in confusion and disengagement. In order for companies to grow beyond their core, they must look toward new or adjacent markets to either take their offers or from which to create new ones. Companies who do not think through the relevancy and fit of their brands in these expanded markets find themselves in a paradoxical situation – they either have a corporate brand that was made strong because of its focus on a particular market or product type, which does not have the elasticity for new markets; or they have a portfolio of unrelated brands typically gained through acquisitions or organizational "tribalism" (unmanaged creation for brands by groups within an organization), which overwhelms the markets they are entering and creates inordinate complexities to manage internally.
After years of acquisitions, the portfolio of GM had swelled to the point that its complexity was having negative effects on the company's performance. In 2009, immediately following the auto industry bailout, GM had eight brands comprised of Chevrolet, Buick, Pontiac, Saturn, Cadillac, Saab, GMC, and Hummer (not to mention Oldsmobile, which it finally eliminated in 2004). GM's intent of providing a vehicle for every stage in life had spun out of control, leaving the car company with too many unprofitable and overlapping brands, many of which were ineffectively positioned to win within their chosen market segments. This complexity resulted in the company losing focus on where it could best compete and sustain profitable growth. It took an economic crises to force a much-needed pruning of the brand portfolio, and thus, requiring GM to be more selective about which brands it would make its big, long-term bets to drive the future business. It smartly eliminated brands, such as Pontiac and Saturn, which were not market leaders, and over-lapped other brands on the portfolio, as well as other poor-performing, niche brands, such as Saab, which never met the potential GM saw when it fully acquired it in 2000.
The optimal approach for most companies lies somewhere between the ends, but leans toward one side or the other.
While most companies need more than one brand to optimize growth potential in the markets they serve, figuring out how many brands across chosen markets (portfolio strategy) and how they should relate to each other (brand architecture) can be difficult. Whether the decision is to target heterogeneous markets or serve those more homogeneous, it helps to start with an over-arching strategic philosophy or intent that guides decision-making.
For many B2C companies, this philosophy tends to center on smaller slices of segments that may require more brands that are distinctively positioned from each other to tap into a varied set of needs, while many B2B companies tend to service audiences that are more alike, and thus require fewer brands. Whichever the degree of targeting, remaining in the middle of a branded house/house of brands spectrum is no man's land and will perpetuate reactive, un-strategic decision making that doesn't serve the organization in its long-term objectives. Some barometer (should we utilize a single corporate brand across markets and offers or a portfolio of distinct brands) is needed to guide this important decision. While managing a larger portfolio of brands, leading CPG companies realized years ago that each brand must achieve certain thresholds/critical scale in order for it to remain in the portfolio as a stand-alone brand (often the threshold of a billion dollars has been used for these companies, such as P&G and Unilver). Conversely, the case for many B2B companies to create or maintain several brands is a tough one to make, and many operate on a "master brand" philosophy where the corporate brand is leveraged into the offer domain due to limited internal resource and the similarity of markets. Knowing the overriding brand architecture philosophy, or default position of intent heading into these decisions, helps advance decision-making, especially when those decisions are in gray, complex areas where the right decision is not obvious.
Proctor & Gamble is one of the world's largest and most prominent companies with over 50 brands that are well known in 180 countries. In the early 2000s P&G's brand portfolio grew to the point where its strongest brands, like Tide and Crest, weren't receiving enough attention, and others, like Oxydol and Biz, were siphoning precious resources and organizational attention. The company went through a formal brand portfolio pruning effort that concluded in the determination that all brands must already be, or have the ability to generate, $1B. In 2000, there were 10 billion-dollar brands; today, there are 22 and another 19 that generate over $500B in annual sales (with expectations of $1B in the near future). So, even the leading B2C company with a house-of-brands philosophy understands that too many brands can sub-optimize a business.
Over the last decade, Cisco has come to realize the power in its corporate brand. Even in its most recent moves, it has begun to draw a closer relationship between the corporate brand and those that were standalone, such as digital collaboration tools Telepresence and WebEx. While retaining those names due to the equity built up over time before and even after they were acquired, the company has migrated them to become branded product lines of Cisco, thus continuing to leverage their strong names in their respective markets, but also to begin driving an exchange of equity with the Cisco brand – Cisco lending brand associations to Telepresence and WebEx, and both those brands lending associations to Cisco. Clearly, Cisco has a branded-house philosophy, but it applies it prudently and thoughtfully to capture the most value in distant markets, while sensing the optimal time for change.
Few companies get it just right – many either enforce too much control with an over-burdened master brand, or apply very little discipline and allow for too many inconsistently related brands within a portfolio.
There are few situations where these issues are more apparent than when a company is considering entering new markets for growth and realizes it must acquire companies to realize the potential. While there are many potential reasons for acquisitions including new capabilities, customer relationships, and an expanded geographic footprint, often brand, especially for B2B companies, ranks near the bottom. Companies get themselves into trouble when brands aren't part of the conversation early on. They either dismiss the equity a brand might have in a particular market segment, and thus undervalue it in negotiations, or they over-estimate its equity, and thus hold onto it for too long and let it languish, never really getting the most out of it and never making the hard decision to make room for a different brand with more potential.
For acquisitive companies with a house-of-brands orientation (or worse, a bunch of unrelated brands with no house, as is often the case), taking on more brands through acquisitions appears to be an easy proposition, as little to no integration is required and those brands can simply live on their own as they did before they were acquired. This approach, however, has a day of reckoning, as the time will come when that company's portfolio of brands bloats so much that confusion, inefficiencies, and complexity actually impede business operations and hamper growth prospects. Moreover, too many brands with no strategic coordination will sub-optimize go-to-market efforts and diminish opportunities to build brand equity, which can have direct negative effect on new product introductions, sales effectiveness, and customer acquisition.
Regal Beloit (recently re-named "Regal"), is a $3B-plus manufacturer of motors and gears headquartered in Beloit, WI. The company is defined, in large part, by the multiple acquisitions it has made throughout its history, notably a series of small acquisitions in the 1980s, and two from GE in 2004 that doubled its size at that time. While most acquisitions proved successful by contributing to the top line and giving the company access to new markets and customers, the operational complexity had grown so severe that it was affecting both the bottom line and customer satisfaction. Acquired company brands had very rarely been eliminated, let alone integrated into the portfolio, thus making it increasingly difficult to build equity into any of them. Customers grew increasingly frustrated with having to deal with so many brands, many of which seem to offer the same products, not to mention the jumbled knot of customer service that resulted from avoiding integration. The amount of company-level brands had grown to over 30, each one having a multitude of product brands to manage, often with significant overlap. It took the acquisition of A.O. Smith's electronic products division in 2011 and continued outcry from customers about poor service to make Regal Beloit take a more serious look at its brand portfolio. Clearly its "day of reckoning" had come. To simplify the portfolio, the company went through a formal process resulting in the promotion of few brands to "global investment status," others to "product line status," and many others into a "migrate and rationalize status." This effort is ongoing but the company is already reaping the benefits of this clearer vision.
For acquisitive companies with a branded house orientation, assimilating new brands that have come with acquisitions appears easy as well, as there is no question that the new brand will be eliminated and the new products/services will quickly take on the acquirer's master brand. This approach also has its limitations, as brands of successful companies often embody the particular market or offer type the company has focused on throughout its history. Moreover, often after a first horizon of growth has been accomplished, the next horizon requires either reinvention or certainly significant expansion into new markets and/or new offer sets. Often a master brand, albeit strong in many respects, does not have the kind of elasticity to be credibly considered in these new areas. That is when either a new brand should be considered, either tied to the master brand in some way or not, depending on the dynamics in that new category.
When AT&T acquired Leap Wireless International in early 2014, it needed to determine whether or not to keep the Cricket brand name, which offered pre-paid, discounted, smartphone plans with unlimited talk, text, and Web access. The acquisition will strengthen the market position of AT&T and allow it to build its presence in the increasingly lucrative market with which it did not previously participate, as the Leap acquisition allows AT&T to access an additional 96 million people in 35 states. Although somewhat new to the market, the affinity many consumers built toward the Cricket brand was too strong for AT&T to consider eliminating it. Cricket, for the time being, will remain and be distanced from the AT&T brand, much like MetroPCS brand exists relative to its parent, T-Mobile.
So how should organizations, especially those with a strong corporate brand looking to grow into new areas, make these important branding decisions?
While there are many things to consider when determining the optimal brand strategy to enter and exploit new markets, I have found asking five key questions to be most helpful in arriving at the best approach:
1) Can your brand REALLY extend into these new markets?
Often, the ability of a strong corporate brand to extend into distant or even adjacent markets is wrongly assumed. Many executives believe that the sheer size, legacy, or awareness of their brand is enough to take on new customers who (obviously) have such regard for the brand. Companies with strong brands often thrust their brand into places where it is either not well-positioned or even carries with it negative associations relative to the new market. VW has certainly established its corporate brand and effectively leverages it into its many models including Golf, Jetta, Passat, and Tuguan. Unfortunately, it has yet to strike gold in its attempt to reach up to the luxury class with its Phaeton model, which entered the market in 2003, spiked in 2004 when it sold 1,939 units (well short of the goal of 5,000), and has been a money loser ever since. Did VW mis-read the market potential, or did the "people's car" mis-read its brand's ability to appeal to those buying a $17,000 car and one priced at $70,000? It can be argued that luxury car buyers are, especially, discriminating and brand associations play an even bigger part of the purchasing process. If you were in the market for a luxury sedan and considering the likes of a BMW, Mercedes, Lexus, or Infinity, would you consider a VW Phaeton, even if you could save $10,000?
An example where a company did seem to recognize the limitations of the brand when entering a new space is Dow Corning's Xiameter, the brand it created in 2002 to sell its commodity silicones over the Web with a no-frills value proposition. Dow Corning realized that distance and distinction was needed from the core Dow Corning brand in order to ensure premium pricing from its other silicone products and to limit channel conflict. The branding of this product line has been lauded as a best practice in the industry and shows how being in-tune with the market can really make a difference for the long haul.
2) What is the opportunity in the new market from a brand perspective?
Another key question to consider is what the competitive landscape looks like in the expansion market. Is it filled with entrenched behemoths or highly fragmented with several small players and no real established brands? Do certain large brands dominate the space and shape customers' frames of reference, thus requiring new entrants to "play along," or is there an opportunity to disrupt with not only a new business model, but a new brand that might be unorthodox but have the potential to become the frame of reference, much like Google did in online search?
3) Does the new market represent an opportunity to redefine your corporate brand?
If new markets that are forming are large enough, they represent a double opportunity – to enter as a business concern and drive growth and to actually define the corporate brand in ways that propel it into the future. IBM did this masterfully with the coining and marketing of the term "eBusiness" back in 1996. At the time, this campaign was a way for IBM to establish its leadership in the then-burgeoning market, but it soon became a platform for the entire IBM business and helped it redefine its brand in ways that were forward-looking and contemporary. Because efforts around eBusiness were so effective, many saw it as a brand unto itself, as it established its own identity with strong associations, provided a distinctive experience to customers, and went far beyond marketing or communications.
4) Is there an established brand in the new market space that could be purchased?
Effective start-ups generate rapid adoption by being focused on specific unmet need states of the market like no other. The really successful ones not only have strong value propositions and business models, they have quickly built brand equity in specific markets. In order for larger, more established, but often slower-moving players to take advantage of these opportunities, often they have to either organically develop their own offer/brand, as in the case of Xiameter above, or acquire those more focused, faster-moving start-ups. Recently, Avis acquired ZipCar just for these reasons – to allow it to quickly establish presence in, and enjoy the growth opportunities in, the car-share market. While Avis certainly purchased ZipCar for several reasons, the power of the brand will leapfrog Avis past its competitors, including Hertz (organically grown Hertz 24/7) and Enterprise (acquired iGo and merged into Enterprise Car Share), who also have car share offers, but don't have the brand leadership of Zip.
Another example of a brand-astute company entering a new market through acquisition is FedEx's purchase of Kinko's. The acquisition of Kinko's immediately expanded FedEx's retail presence, while increasing their permission to provide copy and printing services to small businesses and consumers. After a successful brand linkage was established early on with a combined visual identity (using FedEx's typography and color palette, but keeping the Kinko's name and adding a unique symbol), the Kinko's brand was eliminated to further bolster FedEx's overall position and accrue equity back into the corporate brand. FedEx successfully planned out the brand migration of Kinko's – its two-step approach, which took nearly four years, allowed it to capture the equity of the Kinko's brand and transfer it to FedEx in a measured way that didn't jar customers (unlike UPS's acquisition of MBE), but decisively moved toward an end-state of the mast brand.
5) Might a sub-brand linked to your corporate brand help you enter these new markets?
Unlike VW's Phaeton mentioned earlier, sub-brands can be used to help companies extend into new markets. There is no better example of this than in GE's appliances business, where it has stratified sub-brands along a good, better, best hierarchy to expand the corporate brand's appeal to more affluent consumers with its Monogram brand to its recently launched Artistry Series designed for the young family on a limited budget, but with a heightened design sensibility. Both the Monogram and Artisry sub-brands extend the reach of GE while making the corporate brand more relevant to audiences that might not have otherwise considered it. Without these sub-brands, distinctive product design alone might not have been enough to penetrate these "non core" consumer segments. While, at the same time, introducing new, stand-alone brands into these segments would have cost an inordinate amount of resources with no assurance of success.
A carefully executed brand portfolio strategy is an imperative for securing long-term growth and success in an ever-changing marketplace. Managing and balancing the brand identities within a portfolio is best achieved by employing a dynamic and flexible approach that promotes targeting the desired segments and positioning of the offerings on specific attributes. A sound brand architecture strategy facilitates entry into new markets and product categories, and minimizes barriers of entry for future brands.
Download this Article - Getting The Balance Right - Branded House and House of Brands
_________________________________
Michael Million is a partner at FullSurge, a strategic consulting firm that helps clients grow through brand-building and marketing.