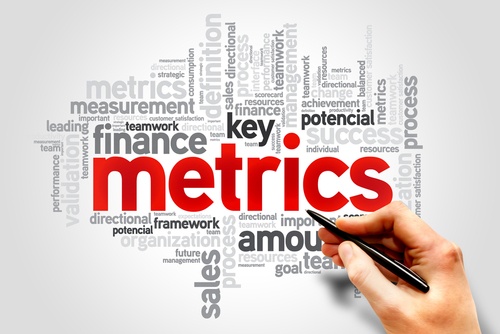 By Michael Million
Metrics are an integral part of the brand strategy process. They are the key to understanding the drivers of brand strength and equity. Metrics help businesses understand how their brand is performing within the framework of customer values and expectations, and against competing brands. Determining the appropriate metrics to track is one of the most important steps in monitoring your company's brand health.
Why Metrics Matter
In today's commoditized marketplace, where it is increasingly difficult to differentiate your own products from competitors', brands are recognized as one of a company's most valuable intangible assets. When both diagnostic and prescriptive, metrics help managers understand whether (and to what extent) the brand is on track relative to its positioning. Knowing how your brand is perceived enables you to "course correct" as necessary so that the brand is better aligned with overall business objectives, can head off emerging liabilities, and can take advantage of momentum or spikes in positive perceptions. Leveraging key metrics results in winning strategies and tactics both internally within the organization, and externally in the market.
Categories of Brand Metrics
Three common categories of brand metrics are: 1) behavior metrics—what employees inside the organization do to advance a brand, 2) perception metrics—the way a brand is viewed by its customers and other key stakeholders, and 3) performance metrics—the financial and other business measures that propel a company forward. Understanding these three categories, along with the types of metrics each encompasses, is essential to developing a brand scorecard in conjunction with a marketing dashboard to measure their return on marketing investments.
1) Behavior (What you do)
Behavior metrics incorporate both internal (management and employees) and external (market) factors. Internal branding reinforces corporate culture, aligning it with leadership and business strategy. It is senior management's commitment to energizing the talents and enthusiasm of employees and leading them in "living the brand" and engaging them as "brand ambassadors."
Most employers use a variety of channels to communicate brand messaging internally. Some of the most common channels are: employee Intranet sites, emails/in-house newsletters, employee recognition programs, and employee town halls. It is vital for managers to effectively communicate the value proposition with employees and provide necessary resources for them to achieve organizational goals. Recent studies have shown employees' understanding of the brand offers additional support for their brand commitment and citizenship behaviors in delivering brand experiences to customers. When employees recognize the connection between their organizational roles and delivering brand value to customers, and believe that their behaviors can significantly affect how the brand is perceived, they will be more likely to be committed to the brand and be willing to take extra effort to ensure customers' brand experiences. Zappos uses monthly employee surveys to gather feedback and help ensure that workers perform in service-centric ways. At Molson Coors, an employee engagement survey found that 86% of employees are actively engaged in the company and the company also relies on "good old-fashioned conversation" to gauge employees' understanding of the company's goals and identity. Five Guys, one of the fastest growing franchises in the country, spends almost its entire marketing budget on its people, and practically nothing on marketing and advertising.
External branding efforts reinforce customers' perceptions, customer experience, or the company/brand value proposition. Market manifestations include activities, such as proprietary products and intellectual property, speaking engagements, articles and whitepapers, and search engine optimization. They reinforce credibility and strengthen the brand. For example, the growing trend for many professional services firms is to engage employees as "thought leaders" and "brand ambassadors" by encouraging them to generate branded content. Research unequivocally confirms that increased engagement leads to higher financial performance, higher customer satisfaction, and higher employee retention.
2) Perception (How you're viewed)
Brand Funnel. Are customers aware of your brand and is it relevant to them? Although the traditional model of a straightforward funnel — with well-known brands entering at the awareness and consideration stages, followed by a deciding phase when a smaller number of brands is selected, with a chosen brand emerging at the end — has become out of step with reality, it still provides a suitable framework. However, with the continued importance placed on social media, brands need real-time data to measure their social efforts and understand how it impacts their entire brand performance, brand awareness, consideration, and trial. According to Nielsen, more than two-thirds of global Internet users seek online product reviews, recommendations from discussion forums, or feedback from social media sites when making a purchase decision.
Brand Image. How is your brand perceived in the marketplace? What do key audiences believe about your brand, and what feelings does your brand evoke? Brand equity consists of the enduring brand perceptions and associations in the minds of consumers. Brand perceptions influence how customers think and act. The stronger those perceptions are, the more likely they will be to influence purchase decisions and add value to a business. If you don't understand consumer perceptions of your brand, you can't effectively market your brand and grow your business. By measuring and quantifying customers' and prospects' perceptions of your brand, you can see where you stand in the market relative to your competition, what key aspects of your brand are effectively "owned" by competitors, and determine whether customers purchase your product, recommend your company to others, or turn to the competition.
3) Performance (What you achieve)
Brand performance is an important measure for organizations to monitor how the brand is performing relative to overall business goals, and is measured from both a financial and customer perspective. Performance metrics assess how customers think and feel about the brand.
Brand loyalty. How do customers respond to your brand/organization? The success of a firm depends largely on its capability to attract consumers towards its brands. It is critical for the survival of a company to retain its current customers and to make them loyal to the brand. Measures of customer acquisition, retention, and satisfaction all contribute.
Business impact. What is your brand's financial impact in the marketplace? How do customers act on their thoughts and perceptions about the brand?
Tracking KPIs
Brand metrics provide companies with critical information to successfully manage their business. However, within each of the three categories, questions arise as to how there are many types of metrics that differ widely in terms of what they're intended to track and the purposes they serve for an organization.
1) Behavior Metrics provide an ongoing understanding of how your brand is performing internally, vis-à-vis previous efforts, and externally to customer expectations and competitor actions. Companies rely on a range of metrics to track and measure the success of their branding efforts including employee engagement scores, employee understanding of business strategy, and percent participating in employee referral programs. Intelligence gained through brand awareness and perception surveys, search engine rankings, website traffic reports, sales conversion rates, and lead generation tracking is commonly used to measure the effectiveness of external branding initiatives.
2) Perception Metrics answer the question: "What do customers think and feel about your brand?" Insights are gained through brand awareness and recognition measures, and the attributes perceived by current and potential customers.
3) Performance Metrics evaluate how customers "act" on their perceptions and help assess how brand-building activities directly drive overall business results, ranging from price premium to loyalty to the lifetime value of a customer. These measures facilitate a company's ability to estimate an accurate financial value of brand equity.
The Proliferation of the Internet and Mining Big Data
Customer brand perceptions and purchasing decisions appear increasingly influenced by Web communications and social networking services, extending consumers' options for gathering product information by including other consumers' comments posted on the Internet, and has provided consumers opportunities to offer their own advice by engaging in microblogging (Twitter), full blogs, online reviews, etc., as forms of electronic word-of-mouth (eWOM) for sharing opinions concerning brands. Negative customer feedback can be useful for identifying customer preferences or correcting accidental product defects. Therefore, monitoring eWOM can be used as an early warning system.
Although SMM software is still in its development phase, it is a good indicator of overall word-of-mouth and can effectively influence Web users' mindsets and buying decisions in both B2C and B2B contexts. SMM allows a company to gather information that previously would have required surveys and interviews. It could be argued that automated monitoring is a more objective tool for the measurement and analysis of word-of-mouth because people tend to construct their opinions differently than they might when not being observed.
While LinkedIn Analytics is most often used for those using it as a B2B engagement platform, it can also serve as an effective tool for measuring B2C brand awareness for an SMB. You can easily identify how many users are viewing your LinkedIn profile and related content from the LinkedIn Analytics dashboard. Similarly, Google Analytics is a very effective tool to measure brand awareness on most levels (social, search, cost per click, display ad impressions, etc.) by specifying how, or if, users are engaging with content – blog posts, articles, videos, etc. Finally, you can create effective brand recognition surveys using online survey software, specifically designed to collect feedback, to determine whether your target customers recognize your brand and are able to associate it with the right products or services. Brand recognition surveys can also be used as a tool to uncover more intangible information, such as consumer perceptions, about your products or services.
All organizations can benefit from a comprehensive evaluation of their brand across key stakeholder groups, resulting in meaningful analysis for executive decision-making. As global competition continues to increase complexity for all organizations, a company's brand reputation becomes increasingly valuable. Brands need both, real-time metrics and data from long-term surveys, and the right metrics to assist brand and marketing teams in making the right decisions.
Download this Article - Determining the Right Brand Metrics to Track Performance
_________________________________
Michael Million is a partner at FullSurge, a strategic consulting firm that helps clients grow through brand-building and marketing.